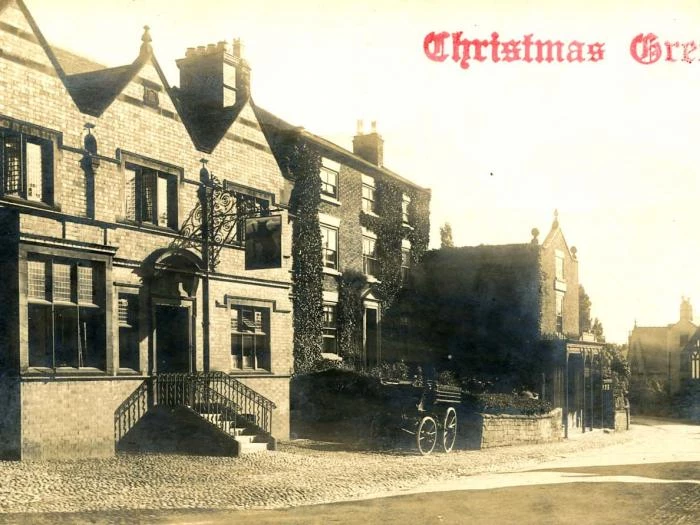 With the refurbishments of 'The Bear and Ragged Staff' well advanced, we thought we would share this postcard with Tattenhall Online readers.
Some years ago, Bernard Pike (a resident in Dorset) was at a Bonfire Party when a photograph album was thrown onto the bonfire. He retrieved it and contained within it were several postcards, all addressed to a Miss Holland who lived at Foxcroft, off Burwardsley Road, Tattenhall and who later moved to Dorset.
Having spotted the Tattenhall Local History Website, Bernard struck up a conversation with the team and kindly sent the postcards to us.
One such postcard is of 'The Bear and Ragged Staff' and which gives an idyllic image of what that building (and its dominant position on the High Street) was like c. late 19th and early 20th centuries. It is interesting to note the building itself, Bateman's Bazaar with its beautiful Victorian verandah (currently the Chemist), the cobbles and the words 'Christmas Greetings' superimposed on the postcard – click on image to enlarge.
We have shared this image with Brian Mellor who is involved in the upgrades of the building.
If you wish to find out more about the history of Tattenhall CLICK HERE.