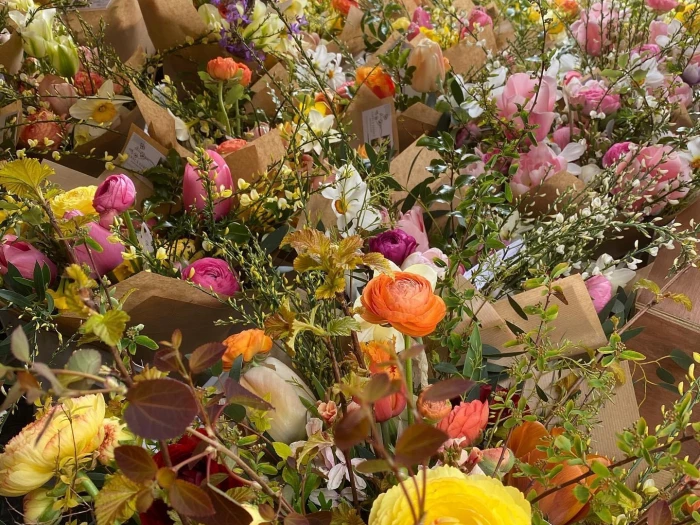 "Van full of flowers again. Since Christmas, the van hasn't been used for much other than moving furniture for friends and family. And with no big wholesale orders or weddings to deliver until August at least, I was considering taking it off the road to save on tax and insurance. But here we are again, with it full of flowers, on our local Friday delivery run on Good Friday. Every stem grown here, full of life and sunshine.
So many messages of thanks, love and support – and so much appreciation for flowers in amongst all the sadness.
Government clarification on flower deliveries has been slow in coming, so we had stopped all deliveries on the understanding that flowers are not classed as 'essential'. But we now know that we are allowed (even encouraged) to do this, in a safe and contactless way, with online payment and drop-and-leave type delivery. So we are seeing demand from different customers- the florists and customers who might usually buy imported flowers are now looking to Buy British and local. The most heart-breaking example is for funerals. We know how difficult a time this can be, but it's so much harder at the moment. Very few mourners are allowed. On top of this, funeral directors are often unable to source flowers from their usual contracted florists, who rely on imports. We've had several enquiries from people wanting flowers for the funeral of their loved ones- and we are pleased to be able to do this, for local funerals. A simple sheaf of local flowers seems the most appropriate and lovely thing to be able to offer, either to collect from us or we can arrange direct with the funeral director.
We are a small business and able to adapt. The flowers keep growing and we need to keep sowing and planting ready for when the restrictions are over, whenever that might be. Things are certainly very different and we are glad to be able to carry on working outside, in our own fields, though we can't have anyone else on site. We have had huge support from local customers this year and we are very very heartened by that. We have decided that we can offer a safe local delivery of cut flowers, on a Friday afternoon (after 12.00) every week, on a Friday for Tattenhall and surrounding hamlets (inc Milton Green), Brown Knowl, Broxton and Bickerton. Or you can pick up from our contactless pick-up point in Harthill if you are passing on one of your essential journeys. "
Please order by Wednesday evening, to allow cutting on Thursday, for delivery Friday afternoon.
CLICK HERE to go to website for details and to order.
SUPPORT YOUR LOCAL BUSINESSES