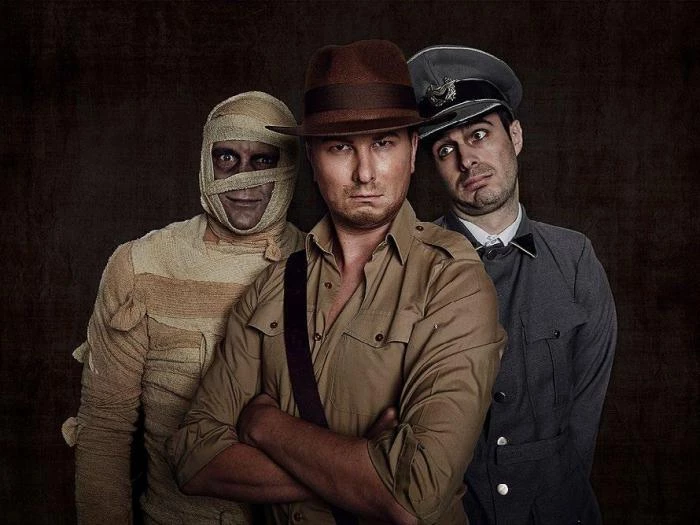 Rural Touring Arts & the Last Chance Saloon Theatre Company bring you a rambunctious double bill of comedy on Thursday 4th October, 2018, at 7.30pm in The Barbour Institute.
Curse of the Mummy is a tale from the darkest depths of Ancient Egypt. Our unwitting hero, Montana Jones, is on a quest for archaeological eminence, but a love-cursed Mummy and a camp Nazi spy threaten to destroy everything!
This ancient legend is unwrapped, revitalised and whipped up with mischievous musical mash-ups and outrageous humour.
If you combine the League of Gentlemen with Monty Python and throw in a touch of Charlie Chaplin you'll get Curse of the Mummy .....
'The most fun you'll see this year' Edinburgh Evening News
'Utterly outrageous and utterly riotous' Theatre News
'A must-see if you want to cry with laughter' Three Weeks
In Sherlock Holmes and the Blue Carbuncle, the titular 'carbuncle' is mysteriously stolen and Sherlock Holmes is the only man with the skill, the imagination and the incompetent sidekick to solve this heinous crime. Watch Holmes and Watson weave their way through Victorian London following clue after clue until they reach a farm in Bray where the unlikeliest of criminals lies in wait...
With food-inspired twisted pop songs, an assortment of ridiculous characters and more slapstick British comedy than a Butlin's holiday camp, this shameless spoof promises slick, high-octane theatre comedy.
Tickets for this double bill cost £10.00 each (all ages) and are available from Tattenhall Post Office, Jill at The Studio, Worley Court, or online at www.ticketsource.co.uk/date/536200
(Age suitability recommendation = 12+ years)