COVID19 For The Love of Scrubs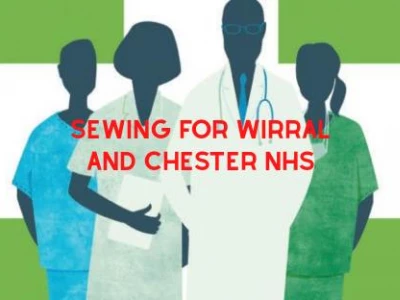 Hello lovely Tattenhall residents and people in outlying areas.
Just over two weeks ago I posted an appeal on our fabulous Tattenhall Online, asking for sewers and financial donations for the support of 'For The Love of Scrubs – Chester and the Wirral'. The response and your generosity has been overwhelming.
I am writing today to thank all who kindly donated and those of you that have become sewers and are voluntarily beavering away making scrubs, masks, hats, and laundry bags in your own homes and presently closed businesses.
Up to now we have raised in excess of £3,400 for the Chester and Wirral sub-group and now have an amazing bank of more than 350 sewers. I would like to thank Ann Wright of Tattenhall Parish Council for her time and generous donation. Also, West Cheshire Police for their offer and pending donation. The general public have given amazingly.
This money is used to purchase, at cost, fabric within the NHS guidelines, haberdashery, patterns and dye. We need donations to keep up with demand and purchases.
Thanks to you, we are now supplying to all Wirral University Teaching Hospitals, The Countess of Chester Hospital, Ellesmere Port Hospital sites, Clatterbridge Oncology Centre, a number of GP Surgeries, Clinics, Covid Hubs and community teams across the Wirral and West Cheshire.
We have an fantastic co-ordinator for our area. Her name is Shelley Fielder. She is truly tireless and passionate about this cause. She oversees everything from recruiting sewers, sourcing fabric, cutting down bales of fabric and distributing to sewers. She helps with advice on patterns and individual abilities. Once the garments are made, she organises getting the garments back and then quality checks and amends any that require little fixes before allocating according to each facility, meeting specific needs and standards.
Our group is awesome!! It is made up of people whose priceless work is accepted by the care system. Shelley also delivers the garments to each site, liaising with all areas to make sure we meet the required standards and observe quality control.
We have had incredible support from the Co-op Food Stores, who have provided us with designated areas where fabric can be picked up from and finished garments dropped off with prior arrangement through Shelley. We are so grateful for this. Thanks also go out to Scarlet Printing and Net Printer who help in us sourcing printed patterns. But the biggest thank you goes out to the general public for unselfishly rallying around sewing, donating fabric and money so that this task can happen in order to support our community and our NHS.
Further information can be found on Facebook at 'Scrubs for Wirral and Chester NHS' and financial donations can be made by CLICKING HERE.
If you have a sewing machine collecting dust and would like to become a volunteer sewer or know of anyone who would be able to sponsor us please do not hesitate to email me at: aj.yates@btinternet.com
Keep Well and Stay Safe.