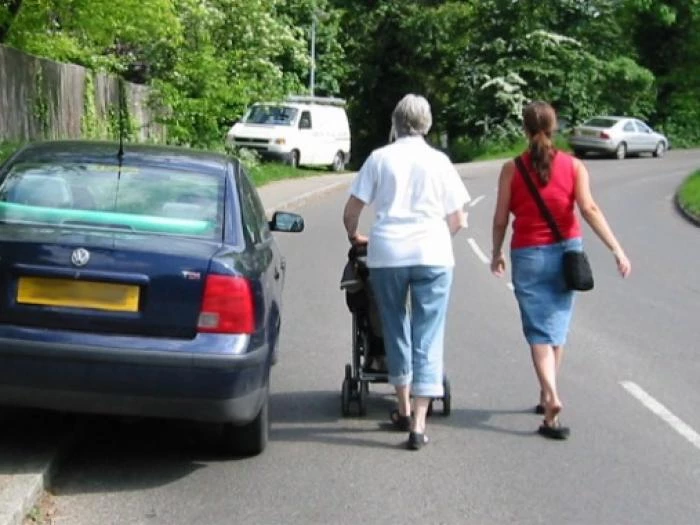 Concern of the Week

Parking on pavements.
This issue has been raised as a local concern, too many people are causing an obstruction by parking on pavements.
So what is the problem?
Parking on pavements causes a problem for many groups of people, especially parents with buggies, the elderly and visually impaired people. However, in many places drivers parking on the pavements, often mistakenly think they are doing the right thing by keeping the road clear. This means that people with sight loss may collide with cars parked on pavements potentially causing injury. If the car does not leave enough space, or there are other obstacles, pedestrians, including people with buggies, may have to walk out into the road to be able to get past and this obviously means they will be at risk of being hit by other traffic.
Parking in this fashion not only causes obstruction, but also damages the pavement. Cars and lorries parking on pavements and mounting kerbs, are one of the main contributing factors to damaged pavements. The weight of vehicles either cracks paving or contributes to tarmac surface subsidence. Damaged pavements can be difficult to negotiate so can also be a hazard for pedestrians especially those who are visually impaired people. As well as this, it is costly for local authorities, both through reactive repairs and in compensation paid due to accidents caused.

Parking on pavements and the law.
It seems that parking on the pavement is only illegal in London, elsewhere heavy commercial vehicles are banned from parking on the pavement, and it is illegal to drive on a pavement.
The Highway code states that -
'you MUST NOT park partially or wholly on the pavement unless signs permit it. Parking on the pavement can obstruct and seriously inconvenience pedestrians, people in wheelchairs or with visual impairments and people with prams or push chairs'
So the plea is
Be More Considerate when parking and think of others using the public highway!
Photo taken from internet, not taken locally!