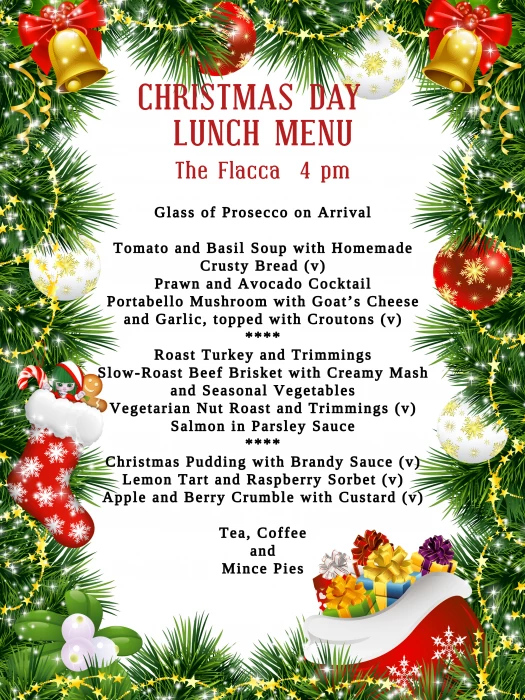 NOW SOLD OUT!
Christmas Day Lunch at the Flacca!
We are delighted to be offering Christmas Day Lunch at the Club again this year!
A glass of Prosecco/orange juice on arrival, three courses, followed by tea, coffee and mince pies ... oh, and there may be a few festive decorations around!
Menu choices and full payment (non-refundable) are required by 10 December latest, please. However, the sooner you book the better – space is limited! To reserve your place in the meantime, a non-refundable deposit of £20/person will do the trick.
All Welcome!
£45/adult; £30/child (under 12). Cash please.
Arrival time: 4pm.
Bar will be open exclusively for diners.
Please print off the booking form from the link below, select your choices, complete and return with full payment (non-refundable) to the Flacca Bar (cash please).
Link to booking form:
https://www.sporttattenhall.co.uk/christmas-flacca-1.html
Printed booking forms also available from the bar if preferred.
We look forward to seeing you on the 25th December!
(Please note: General Bar Opening Times during the Festive Season will be available shortly)
WeLoveTattenhall