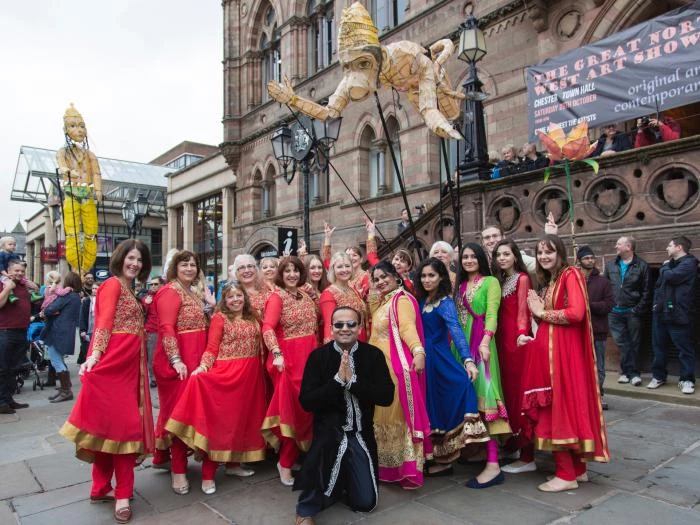 Diwali, the Hindu festival of light will be celebrated in Chester on Saturday 21 October.
The colourful parade organised by the Sanjhi Indian Association leaves the Town Hall Square at 12pm making its way to Eastgate Street for a display of traditional Indian dancing at 12.30pm.
Free workshops including Rangoli Diwali art cards, Diya Indian candles, Henna hand painting and Indian face painting take place from 2pm – 3pm at the Unity Centre in Cuppin Street where there will also be Indian food available from £3.
The Lord Mayor of Chester, Councillor Razia Daniels said: "The Diwali festival always brightens up the city, the dancing and music is infectious with spectators encouraged to join in. Cheshire West and Chester Council are pleased to be supporting the celebrations again this year.
"I'd like to welcome the Sai Mayur Dance, Lalitas Namaste India dance and BandBaja, UK and thank the Sanjhi volunteers, Zaffran Caterers and the Cheshire, Halton & Warrington Race & Equality Centre for their support.
"It's great fun for all the family to enjoy and I would encourage everyone to join me to welcome the Festival of Diwali Parade in Chester."
Sarika Kaushik, Chairperson of Sanjhi Indian Association said: "Diwali is truly an Indian festival that cuts across religions and different beliefs.
"The celebrations traditionally take place over five days, two days before the main day of Diwali and two days after (October 17-21). The fifth day is known as Bhai Duj celebrating sisters.
"Diwali is an international festival celebrated across the world. The parade is now a well-established annual event in Chester. Our dancers have been rehearsing for many months and love to see the amazing response of the audience"