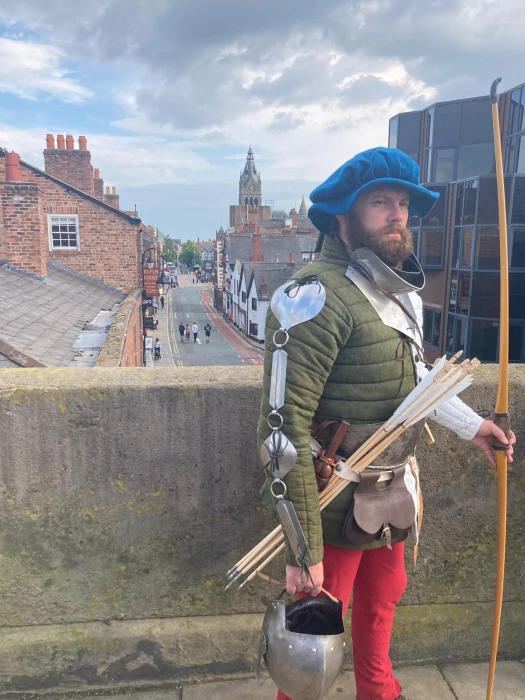 The 'Chester Rows Medieval Meet and Greet Experience' launches this week.
For the next 12 months medieval soldiers in authentic period uniform will meet and greet visitors in the city's four main streets to share the incredible story of Chester's Rows and invite them to explore the fascinating historic shopping galleries. Visitors are invited to have their photo taken with a medieval soldier to share with the world.
Running twice a day Wednesday to Saturday every week, the free experience aims to promote Chester's world-famous Rows as one of Britain's unique heritage attractions.
The new 'Chester Rows Medieval Meet and Greet' attraction has been developed by heritage consultancy HeritageWorks, Roman Tours Ltd and Cheshire West and Chester Council's High Streets Heritage Action Zone team with financial support from Historic England.
Chester Medieval Experience director Cellan Harston said: "Chester's distinctive black and white Rows are familiar to millions of people, but few recognise just how extraordinary they really are. There are countless hidden gems in quirky independent shops and nearly 20 surviving medieval undercrofts, with some that date back more than eight centuries. The Rows are truly full of fascinating history and human stories.Incredibly, the Rows still have surprises and secrets to share. We're working with academic experts at the University of Chester who are researching the untapped medieval history of the city. For visitors who want to learn more about Chester's medieval heritage, we also offer a separate medieval paid-for-tour to enhance visitors' appreciation of Chester's dramatic medieval history."
Chester Rows have survived plagues and great fires, a massive canon bombardment during the English Civil War then revival and rescue during the 19th and 20th centuries but they're still going strong and define the heart of the city's heritage. The city actually boasts over 600 listed buildings and many of these lie within the Rows.
Phil Hirst director of heritage consultancy HeritageWork said: "We are so fortunate having the Rows – no other heritage city has spaces where you can shop until you drop – rain or shine – and browse a wealth of fantastic things you won't see anywhere else, almost everything from designer clothes, luxuries, gifts and jewellery to international cuisine. They really are remarkable Rows."
Councillor Louise Gittins, Leader of Cheshire West and Chester Council said: "This exciting new initiative is part of the Chester High Streets Heritage Action Zone project to revitalise Chester's Rows, recognising them as a key heritage attraction, vital to the story of Chester and a special part of the living history of the city.Online shopping is a challenge for Chester's retailers but we're glad to report that there are now many really exciting new shops appearing in Chester's Rows that bring a special experience quite different from that offered elsewhere.Unlike any other retail experiences in the UK, shop owners in Chester Rows are part of an unbroken link with traders in medieval times. It's an amazing thought that people have been coming to Chester Rows to shop for over 800 years".
Historic England's Pippa Brown said: "It's fantastic to see Chester's rich history being harnessed in such an imaginative and fun way to draw people back to the Rows. We are very much looking forward to seeing the response from the public."