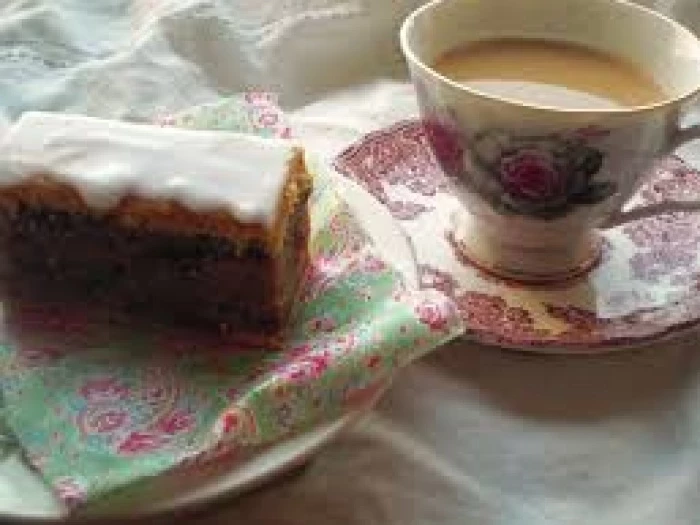 After watching the recent video, 25 Strange but True Facts about Chester, I was interested to see that there is a Chester Cake. In the interests of journalistic research I have decided to find out more about this cake, bake one and (of course) eat it! Not because I love cake or anything, you realise, just to inform our website readers.
Chester Cake is a pastry confection traditionally associated with Dublin, Ireland, where it is known as Gur Cake. In Cork it is known as gudge or donkey's gudge. Chester Cake consists of a thick layer of filling between two thin layers of pastry, topped with lemon icing. The filling is a dark brown paste, containing a mixture of cake/bread crumbs, dried fruits (sultana raisins etc.), and a sweetener/binder. It has traditionally been a cheap confection, made from bakery leftovers.
Chester Cake.
Ingredients
340 g (12oz) good quality white bread
1 pot cold tea
1 tsp baking powder
90 g (3oz) plain flour
225 g (8oz) brown sugar
54 g (2oz) butter
2 tblsp mixed spice
225 g (8oz) sultanas
2 eggs
1/4 pint milk
2 tblsp marmalade
1 lb readymade shortcrust pastry
200g icing sugar
juice of a lemon
Method
-Cover the stale bread with the cold tea. Leave to soak for an hour.
-Preheat the oven to 180C.
-Squeeze the bread dry by pressing the mixture in a sieve over the sink.
-Sift the flour with the baking powder, add the sugar. Rub in the butter and add the spices.
-Add sultanas to the bread and mix well. Turn into the flour mixture and combine well.
-Beat the eggs with the milk, add the marmalade and mix well with the bread.
-Roll one half of the pastry to fit into the buttered baking tin (a rectangular 20.5x 32cm)
-Prick the pastry base with a fork.
-Spread the bread mixture over the pastry. Cover with the remaining pastry and pinch the edges together to seal. Prick the top with a fork.
-Bake for 1 hour and 45mins until golden.
-Leave to cool.
-Mix the lemon juice with the sugar until thick. Add more icing sugar or hot water depending on how thick the icing is. Spread generously over the cake and slice once set.
Enjoy!