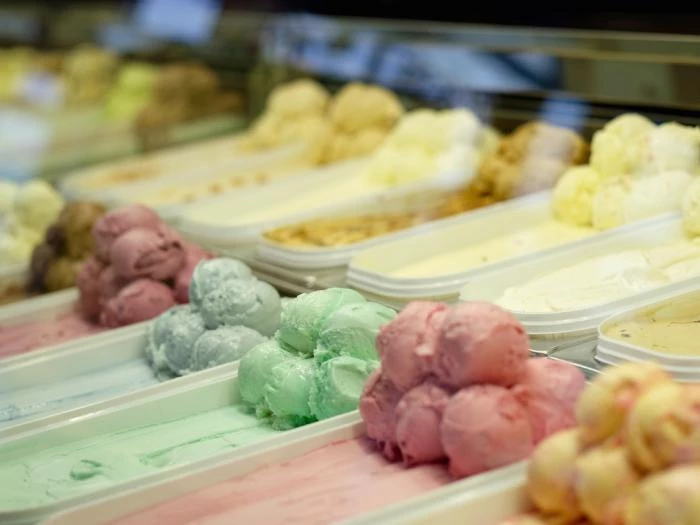 Celebrate National Ice Cream Month at the World's Largest Ice Cream Shop
1st July marks the beginning of National Ice Cream month, when the nation will consume a good scoop of their 9 litres yearly ice cream average. But did you know that the World's Largest Ice Cream Shop resides in Cheshire, right here in the UK?
When you think of both record-breaking and ice cream, it's easy to think of the U S A. But The Ice Cream Farm, with almost 1000 sq ft of ice cream heaven, has fought off tough global competition from the likes of America and Australia, retaining its record-breaking status from Guinness World Records. And it's easy to see why...
The Parlour, as the record breaking shop is known, stocks a huge range of multi award-winning ice creams and sorbets. From staples such as a Chocolate and Vanilla, Brit classics Sticky Toffee Pudding and Cherry Crumble, to new-found-favourites, Salted Caramel and Bubblegum, it's not just the size that counts! The Parlour also regularly launches additional special seasonal flavours, such as Clotted Cream, Blackcurrant Cheesecake and Chocolate Honey Crunch for summer 2017.
With more than 800,000 visitors a year, The Ice Cream Farm is well equipped to deal with the influx of visitors that flock to The Parlour to enjoy their favourite scoop every July. In July 2016, The Ice Cream Farm sold over 15,000 ice creams , with Chocolate beating off tough competition from classic Vanilla. However, new found favourite, Bubblegum was a close third followed by Maltease. Not surprisingly, it's August that really sees ice cream sales soar, with a whopping 118,000 ice creams sold in August 2016 at The Ice Cream Farm!*
National Ice Cream Month launched in the US in 1984, when President Ronald Reagan, partial to a scoop or two, proclaimed that the 'fun and nutritious' snack should be celebrated. Ice Cream companies began promoting this official declaration and soon, July was a highly anticipated month of the year!
Jonathan Fell, Director of The Ice Cream Farm and the man behind the record-breaking parlour, comments: "This year we are celebrating over 30 years in business, which is a massive feat in itself and something we're immensely proud of. National Ice Cream Month is obviously one of our favourite times of the year and what better way to celebrate than with our record-breaking status! The Guinness world record has been creating a real buzz, with people travelling far and wide to see The Parlour for themselves."
Described as one of main contributors to the North West's economic growth by the RBS Regional Growth Tracker, the redeveloped attraction has been a roaring success. With the impressive accolade from Guinness World Records, their success is now not only renowned in the region and the UK, but worldwide as well.