Sat 30th May 2020

Partly cloudy 21°C
The beautiful village of Tattenhall in Cheshire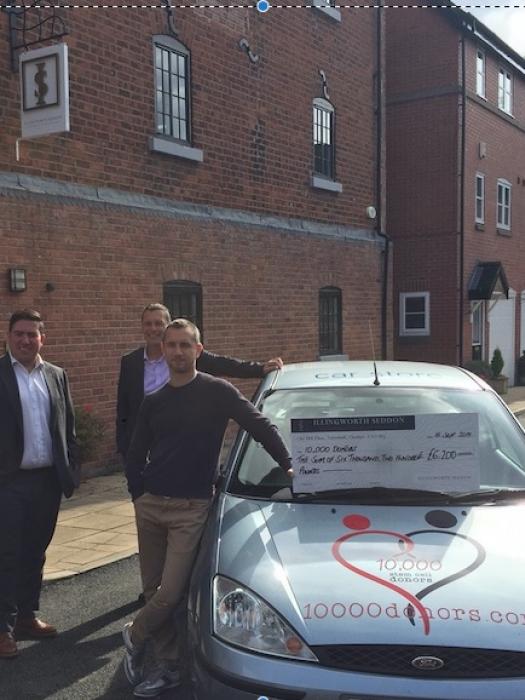 Illingworth Seddon:
October 2019
ILLINGWORTH SEDDON HELP BUNBURY MAN WITH BLOOD CANCER REACH FUNDRAISING TARGET.
Illingworth Seddon, a Tattenhall Chartered Financial Planners, presented a cheque of £6,200 to blood cancer charity DKMS.
Directors Phil Illingworth and Jonathan Seddon, and staff at Illingworth Seddon were inspired by Peter's story, and news that he would be competing in this year's annual Crumball Rally, a continental drive through France, Italy and Switzerland; as part of Blood Cancer Awareness Month (September), Phil and Jonathan pledged to support Peter's £25,000 fundraising attempt. Illingworth Seddon's donation helps bring Peter's fundraising to £30,000.
Dad-of-two, Peter was diagnosed with myeloma in 2017 and told he had seven years to live. He started working with DKMS, vowing to get others to sign up to the UK's aligned stem cell registry, and raise vital funds for the charity.
Every 20 minutes someone in the UK is diagnosed with a blood cancer, such as leukaemia, myeloma or lymphoma and often a blood stem cell donation is the best — and sometimes the only — treatment method to help give someone a second chance at life. Combined, blood cancers are the third biggest cause of cancer death in the UK. Whilst the NHS is very supportive, it falls to charities like DKMS to reach out to potential lifesavers.
Funds donated by Illingworth Seddon staff will help DKMS to cover the cost of registrations, and allow the charity to provide an additional 155 home swab kits to help give Peter, and the 2,000 others in the UK who are searching for a matching donor each year, a second chance at life.
Jonathan Seddon said: "Peter's story continues to touch the hearts of everyone at Illingworth Seddon — we all want to help. Our Client Account Manager Claire Dickens is running the Sandstone Trail Race (29th September) on behalf of Peter and DKMS, so we wish her good luck and hope we can raise even more money to help those affected by blood cancer."
By registering as a potential blood stem cell donor, you will join over 500,000 lifesavers-in-waiting with DKMS, on standby to help a stranger in need. If you are aged between 17-55 and in general good health, please register for your home swab kit today CLICK HERE.
Caroline Richardson, Head of Fundraising at DKMS said: "We're thrilled that Phil and Jonathan chose to support Peter's Crumball Rally. Today's donation is another great example of the local community pulling together to support one of their own, and illustrates Illingworth Seddon's commitment to helping DKMS fight blood cancer. We'll put their donation to good use immediately by providing home swab kits to even more potential lifesavers."
For further information please contact Nigel Gordon, DKMS PR and Communications Officer on 020 8747 5687 or email Nigel.Gordon@dkms.org.uk
If you'd like to support Claire Dickens, then go to her fundraising page: CLICK HERE