Wed 28th Oct 2020

Patchy rain possible 11°C
The beautiful village of Tattenhall in Cheshire
Webteam:
June 2016
The New Buy & Sell Facility is Here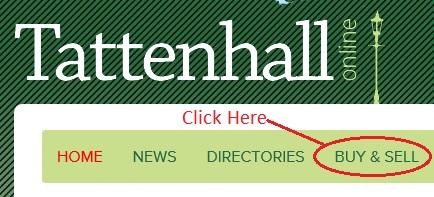 Have you got something to sell? Have you got something to give away? Are you looking for something to buy? Then this is the place for you.
Tattenhall Online is proud to announce the launch of the new Buy & Sell facility. This new feature is available free of charge to local residents and is for private/ personal/ individual sales. It is not available for business use of any kind.
To access this new facility, just click on BUY & SELL in the navigation bar as shown in the image. On the Buy & Sell page please read all the information before trying it out. It is very user friendly, so you should have no problem using it.
To make full use of this facility, you will need to register. This will require you to have a valid email address.
Please Note:
Tattenhall Online provides these adverts for local residents free of charge. It is for private/personal/individual sales and cannot be used for business sales of any kind. Any issues regarding the goods or services listed on this page should be dealt with between the buyer and the seller. Tattenhall Online does not provide any assurances, warranties or guarantees for any listed items. Use this service at your own risk.
popular recent storiesAlso in the news