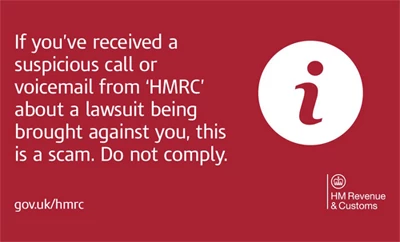 This member of the website team, received a phone call just like this, recently. It seems scams are getting more complicated, however, HMRC would never phone regarding such an issue. The caller had my name and telephone number. Please be aware that you should never give any of your details out to callers, even though it sounds right. Find out the organisation's phone number from another source, and contact them to ascertain whether this is a scam or not.
However I did receive a cold call not so long ago, saying that a company was operating in the area in conjunction with the police, putting in burglar alarms and fire alarms . I thought this was highly suspicious and phoned the police on 101, turns out it was a completely legal operation!
So it is difficult to know what is a scam and what isn't but better to be aware of the danger and do not give any information out without first checking!
Click on image to enlarge.