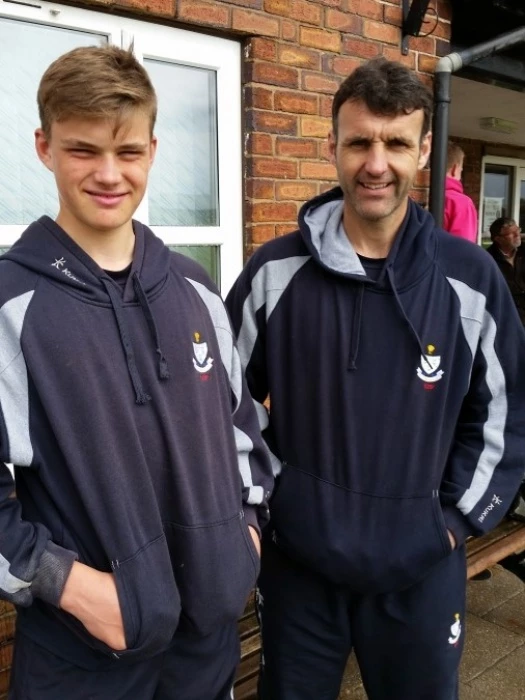 Whilst dodging the hailstones at The Flacca last Saturday, we took the time to catch up with Ben Gibbon. Ben, a Year 11 student at Ellesmere College, has been playing at Tattenhall since 2007.
Now part of the Cheshire Under 16 set up, Ben has represented Cheshire since 2011 and such is his progress that he joined the first team squad last season and now plays alongside his Dad 'John' for Tattenhall first team. Ben and (Dad) John are shown to the right.
Those who attended the 125th Anniversary game against Lashings World XI may remember a shy lad taking 2 superb catches to get the Man of the Match award. Now 2 years older and about a foot taller, Ben will be looking to make his mark on the Division when he finishes his School commitments. A left arm seam bowler whose batting and fielding make him a fine all round prospect, Ben was part of the Tattenhall U15 team which reached the County final last year only to narrowly miss out on the title.
When asked what is was like playing in the same side as his Dad he said it did not bother him as he has always been part of his cricket supporting him at games and driving all over the place to help him be part of these challenges he enjoys so much.
Best ground played on?
Tattenhall of course, but also enjoyed playing at Worksop against Notts u15 side.
Prefer to face seam bowling or spin?
Seam bowling coming on to the bat suits my game.
Dad's Best Quality?
He is stubborn (there goes the pocket money Ben ...)
Prefer to take wickets or score big when batting?
Probably batting but whatever is needed to win.
We are all looking forward to seeing Ben improve and make his mark on first team cricket this season.
Take a look at the new website by clicking here and we hope to see you at The Flacca during the season.