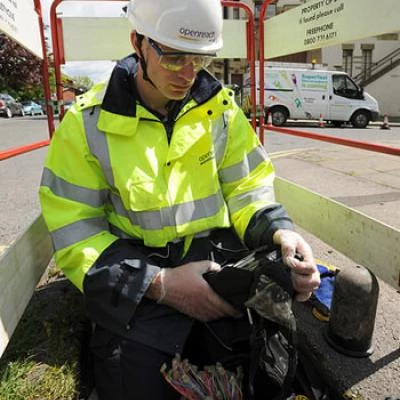 Nineteen out of 20 homes and businesses across Cheshire West can now access superfast broadband, thanks to the Council backed Connecting Cheshire partnership.
Investment by Connecting Cheshire, a partnership between four Cheshire councils, BT and central Government, with additional funding from the European Regional Development Fund, has now reached more than 85,000 premises with superfast broadband speeds of 24Mbps or more across the historic county since 2013.
Engineers from Openreach, the business responsible for the majority of the UK's local phone and broadband network, have installed the fibre broadband infrastructure.
CLICK HERE to check availability in your area and enter the postcode or telephone number.
Connection to fibre broadband does not happen automatically, anyone wishing to switch should contact their internet service provider or shop around for the best package to suit their needs and place an order. With more than 100 service providers offering broadband packages, there are plenty to choose from.
Faster broadband makes a significant difference to everyday online activity, for example a typical film in high definition (HD) can take an hour to download with standard broadband but can be done in a matter of minutes with a superfast connection.