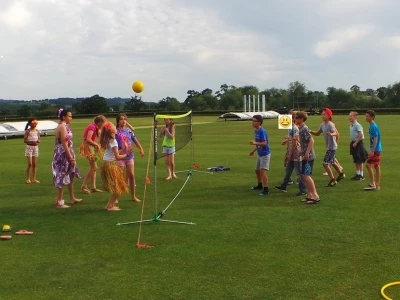 On Friday 10th July the beautiful Flacca was transformed into a tropical paradise, complete with parasols and inflatables, to celebrate the end of an era for the Year 6 pupils at Tattenhall Park Primary School. After hours of planning and preparation by a group of dedicated parents and generous donations from Tattenhall Park PTA, the Ice Cream farm and Tesco, the doors were opened to the excited 'party goers' at 6pm, including a special guest, Mrs Clark, the Year 6 teacher.
All dressed in their beach best, the children partied in glorious sunshine playing a host of games including beach volleyball, capture the flag and a hysterical fancy dress relay! They were then treated to food from the outdoor BBQ and juice and ice cream from the decorated beach bar, followed by selfies galore in the photo booth.
After dancing to a CD created by the children of their favourite songs, the party ended at 8pm with a quick song and a piece of celebration cake. Everyone left happily with a framed photo of their class, a CD of the party music and some very special memories.
In the words of the children.........
"It was the best ever"
"It was fantastic"
"It was better than I could have imagined"
"There was no best bit, it was all great"
"Wow!"
It was lovely to see the children enjoying themselves as a group of primary pupils and we wish them all well as they grow into young adults in their new schools.