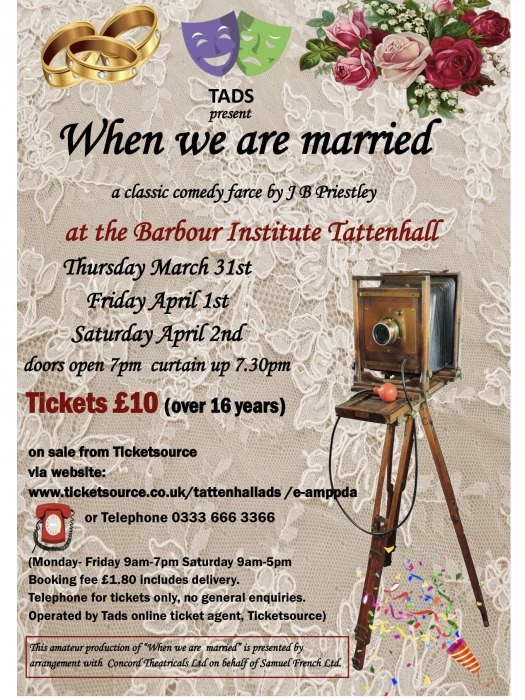 When We Are Married – a classic comedy farce by JB Priestley.
TADS is thrilled to be bringing a night of theatre (well 3 actually) to our very own village. Alison Pritchard Dodd, the Director and also cast member, says the cast are all working really hard and can't wait to get back onto the stage after theatre was so affected by covid.
We hope you will all support our production.
We have limited the audience size to allow more room for people to have space and feel comfortable in these times.
Priestley's play is a masterly comedy of manners and misunderstandings set in 1908, when young people were enjoying new freedoms, hemlines were lifting and their dyed-in-the-wool Victorian elders looked back wistfully to the certainties of the old Queen's reign.
Set against this backdrop of change, three Yorkshire couples – staunch pillars of their local community – meet to celebrate their 25th wedding anniversaries. All is going swimmingly until an unwelcome truth is revealed ...... What follows is a lively romp which keeps us guessing until the final resolution.
Get your tickets here or Telephone 0333 666 3366. Tickets are selling fast, get yours while you can.
WeLoveTattenhall