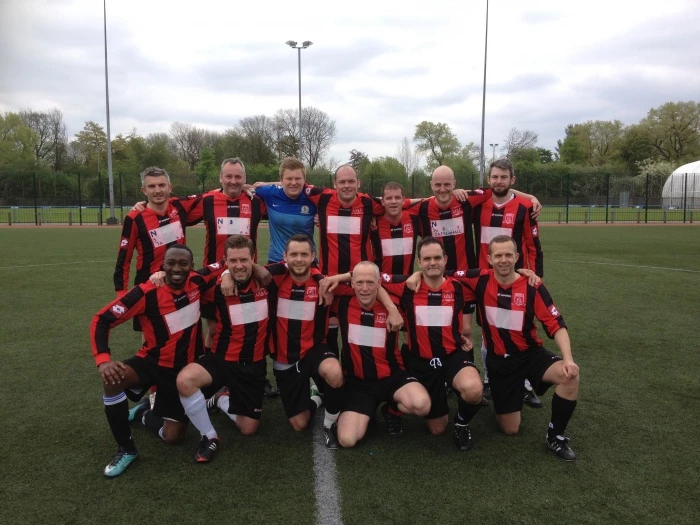 Vets go third with Halloween win over Crossway
Under-pressure manager Stu Taylor breathed a huge sigh of relief as Tattenhall Vets scored two late goals to post a first home win in the CWFL Tarvin Precision Chester and District Veterans' league. Before a crowd one Jack Russell short of a new club record attendance, late strikes from Tim Whitehill and Ben Erwin put a flattering gloss on an even-handed encounter against Chester's Christian football club. On a date dedicated to diabolical misfeasance, Crossways pulled a few tricks but ultimately it was Tattenhall who came away from the Flacca with the treat of moving up to third in the table.
It was however the returning no-thrills midfield grafter James Parkin, who looked like he'd seen a ghost, when a groin injury struck Taylor on 10 minutes, transforming Parkin's hoped-for late cameo into a born-again baptism of fire. Tattenhall, labouring under a seasonal injury crisis depriving them of talisman Ant Rouse, powerhouse Matt Edge and often short-fused Steve Winterson, started brightly and quickly took what appeared to be a comfortable two-goal lead through a glorious curling 20 yard effort from Erwin and a trademark one-yard Mat Green finish. But if Tattenhall Vets have demonstrated one core characteristic in their five-year history, it is the ability to squander a lead. True to form, Crossways clawed two goals back as Tattenhall threatened to implode in rancorous internal squabbling. Taylor later conceded that there had been pre-match tension in the dressing room regarding whether to put on Burt Bacharach or early period Neil Diamond, but that he hadn't expected this to spill over onto the pitch. Thankfully a contentious penalty awarded in favour of the home side eased the tension and skipper Whitehill neatly tucked away the opportunity to restore the advantage. An increasingly aggressive Crossways were in danger of "losing their religion" as Tattenhall confirmed they were "shiny happy people", when Player of the Year Ben Erwin crowned a solo run with his side's fourth.
Under-fire Taylor, single-handedly responsible for squandering the Vets proud five-year unbeaten record, was, for once, happy to engage the media, but again was keen to keep the talk to events on the pitch. Any probing long balls, regarding "brown envelopes" and his rumoured support for the current hierarchy of World and European football, were cleared with the deft touch of a man whose short managerial career has been haunted by controversy. He did however expressly deny any link between these rumours and his recent acquisition of a flat in Cookes Court which he now uses to house his two cats, Sepp and Michel.
Victor French (football and anti-corruption correspondent)