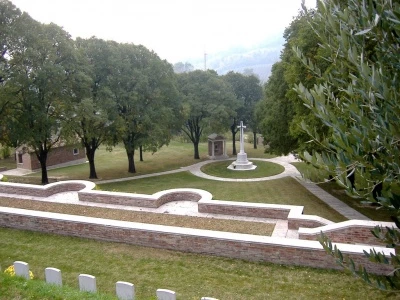 Gunner Fred Frost was the son of Herbert Harry and Emma Eliza Frost of Tattenhall.
Gunner Fred Frost served with the Royal Artillery 32nd Heavy Field Regiment.
He died on 11 September 1944 aged 37.
Gunner Fred Frost is remembered on the Tattenhall War Memorial and is buried in Gradara War Cemetery, Italy.
In early September 1943 the Allies invaded the Italian mainland. The invasion coincided with an armistice made with the Italians who then re-entered the war on the Allied side.
Following the fall of Rome to the Allies in June 1944, the German retreat became ordered and successive stands were made on a series of defensive positions known as the Trasimene, Arezzo, Arno and Gothic Lines.
The site for the cemetery in which Gunner Fred Frost is buried was chosen in November 1944 and it contains the graves of casualties incurred during the advance from Ancona to Rimini, which broke the German's heavily defended Gothic Line, and in the heavy fighting around Rimini, which was taken by the Allies on 21 September 1944.