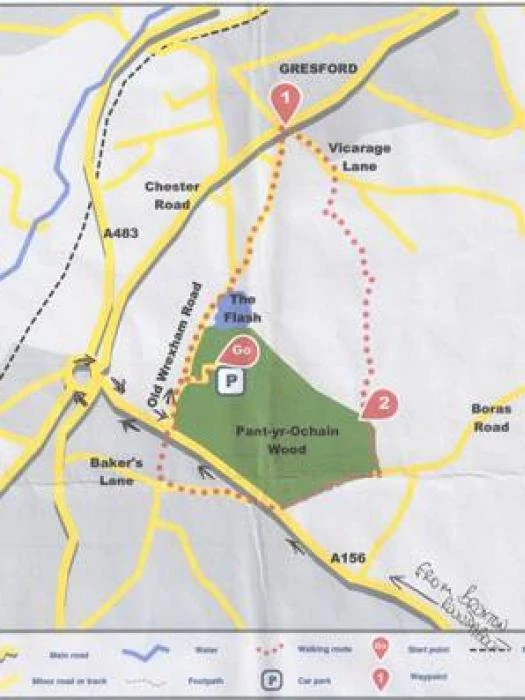 The details of Thursday's walk are below but there are some new protocols regarding U3A. Anyone who would like to join us on future walks is now required to join our U3A group. This is because of insurance risks. We apologise if this causes some slight inconvenience – for information our membership secretary is Hilary Scarratt and contact details are on the West Cheshire Rural U3A site
This week's walk is approximately 4 miles and will take approximately 2 hours and is located at 'The Flash' on the outskirts of Wrexham.
We start on a metalled road, there are a number of kissing gates and 1 stile. No livestock, but evidence that sheep had been kept in 1 field.
To get to Pant-yr-Ochain (where we can park) go right at the Broxton roundabout onto the A534 past Farndon and Holt on the bypass. Right at the first and second roundabouts and straight over the next. Follow the dual carriageway until you come to the large roundabout where the A483 meets the A5156. Go right round and come back up the A5156 turning left signed to 'The Flash', just before the footbridge.
See map.
We have permission to park there even if we choose not to eat there.
As usual, please let me know if you can come and where you will meet since bad weather can result in a change of plan – jillhug@ hotmail.co.uk or 01829 770634
We will meet at Alison's at 9.30am or at the Pant-yr-Ochain car park at 10.00am. We can park immediately on the left in the pub car park – if walkers wish they can use the restaurant there or we can go back to the Bellis Garden Centre – spoilt for choice on this occasion!