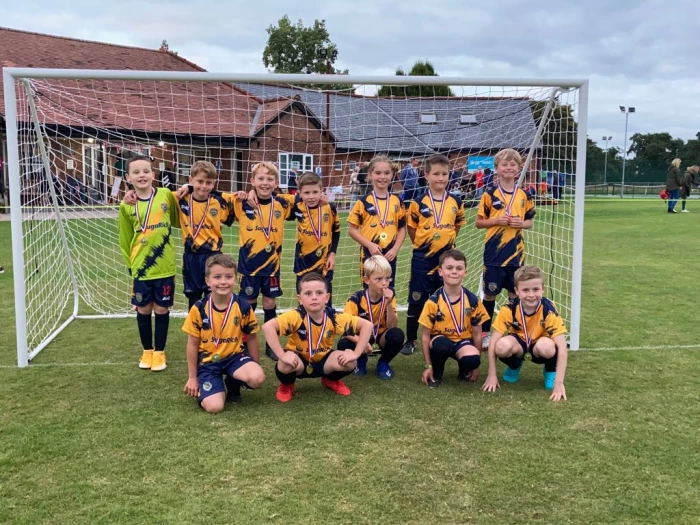 Tattenhall Under 9s Fantastic Start to the Season!
Tattenhall's newly formed U9s football team got off to a brilliant start in the Chester & District League last Saturday, winning 9-0 against Chester Nomads!
This followed on from the U9s football tournament on August 31 organised by Tattenhall Junior Football club to mark the forming of this new U9's football team. Teams were invited from Tarvin, Bunbury and Chester Nomads to take part in the competition, and over the course of two hours, eight very close games were played. Despite never having played a competitive game together before, Tattenhall's newest team was a credit to the village by just losing narrowly to two well-established and experienced sides in the shape of Tarvin and Chester Nomads, 3-2 on both occasions. But it saved the best for last when it played Bunbury in the Plate Final, and it took its first victory 3-2! As for the Cup final itself, a 1-1 draw between Tarvin and Chester Nomads saw the game go to a tense penalty shootout where Tarvin managed to keep its nerve and win the first Tattenhall Cup! Big congratulations for Tarvin's U9s, and a very big thank you to the numerous volunteers who made the tournament possible. Special thanks to Thom from the Spar and his kind donation to the cause, and Graham and Max Harper for their immaculate pitch preparations!!
Training for the Tattenhall U9s takes place on Tuesdays at 6pm at the Flacca, and home matches are at 9am Saturdays. Tattenhall Junior Football Club is keen for other age groups to start up; anyone interested in helping in this, should contact Rich Doyle on tattenhalljuniorfootball@gmail.com