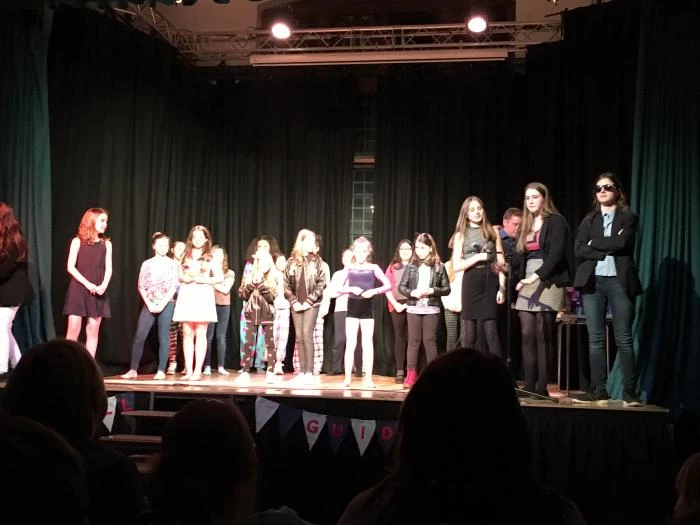 Tattenhall Guides proved yet again that 'Tattenhallers' are a talented bunch as they held their very own Talent Show last week and all in aid of Comic Relief!
The judges, a Youth Theatre Leader from the Hammond School, and Margaret Corlett, Cheshire Divisional Commissioner, were dazzled by an array of acts from a cup tapping singing performance to a gymnast with a passion for cartwheels! There were also many singers who gave powerful and moving renditions of their favourite songs from Ed Sheeran to the Rag and Bone Man.

Whilst the judges had the unenviable task of choosing the winners, the audience was entertained by a professional singer, Des Ritchie, who also auctioned off a pair of Goalkeeper gloves, previously worn by Tom Heaton who plays for Burnley FC as well as representing the national side! The generosity of the audience saw the gloves finding a new home in Tattenhall at a cost of £40, all of which was being donated to Comic Relief.
Red nose merchandise was also sold throughout the evening and there a variety of competition too.
It was then announced that the judges' verdicts were in and, after praise and some 'constructive feedback' for each act, the judges announced the winners, with the overall winner being Libby Forster's singing solo of Ed Sheeran's 'Castle on the Hill'.
Importantly, it was clear that EVERY guide had worked extremely hard on their performances or backstage and all were awarded a much deserved prize.
The final amount raised for Comic Relief has yet to be announced but is sure to be an impressive total while the audience were left in awe and wonder by the bravery and talent of each and every one of our performers.
Well done everyone!