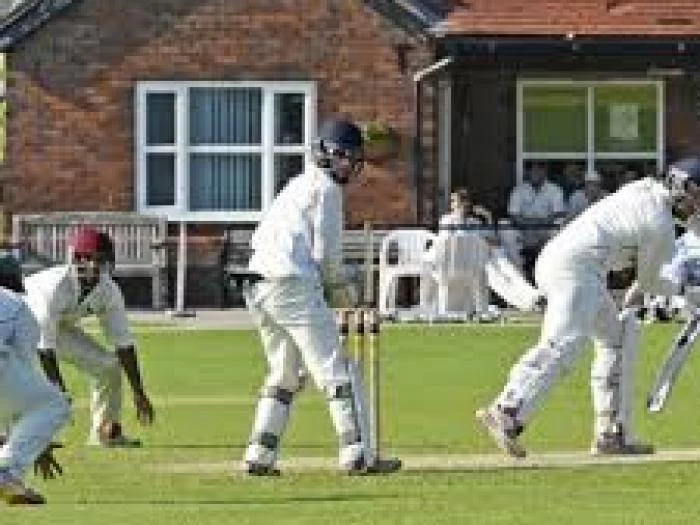 Saturday 24 April
1st XI @ Home vs. Kingsley Freddie Cheshire, Tattenhall CC
Last week Roy commented on how we 'step up against better teams'; let's see how that went....
Winning the toss Roy chose to field first. Arguably one of the best starts we've had in a while. Kingsley was about 30 off 10 for 3 thanks to some quality from Ethan (40 for 2 off 10) and Adrian (30 for 4 off 10). We were well on top. The turning point was a run out chance in the early overs. With two batsmen at one end, Ethan threw the ball like it was his last and it went for 4 overthrows with the 'out' batsmen going on to score a decisive 70.
The bowling was good and the fielding, in general , was good, with catches from Tom F x2, Fred, Roy, Brocky, Sadler & Spraggs. Kingsley had set 167 to win.
Sadler (31) and Roy (17) gave us a great start playing with positivity after a possible run-out off the first ball. 40-0 off 10 was the perfect start and soon became 50/0. Following which, however, the ever-expected collapse occurred! Having watched Kingsley players go back, and slating them for doing so, most of the boys failed to heed our own advice. Sadler/Max/Ethan/Tom all getting out LBW, with 2 going back to a spinner, plum and Max assured us he had hit it. Apparently we hadn't shaken the Tattenhall collapse as batsmen 3-8 scored a combined total of 14. A spirited knock from Waddelove (35*), with some hefty blows, including a straight hit down the grounds for 6.
Lots of discussion took place after the game and some positives came from it, but in general we just need to be better. We finished on 106-8.
(Next Match: Saturday, 1 May. 1st XI vs Port Sunlight (away). Match Ball Sponsor: Nick Toosey.)
Sunday 25 April Village Knock Out
1st XI @ Home vs Pontblyddyn Freddie Cheshire, Tattenhall CC
After two League defeats in a row, TCC was still looking for its first win of the season, so attention turned to the Village Knockout and a home game against Pontblyddyn.
Pontblyddyn won the toss and elected to bat first. Geordie was given the new ball alongside Ethan, and he was straight into his stride bowling tightly and giving the batsman nothing. He got his breakthrough in his 3rd over with a good catch by Roy, (not behind the stumps) and continued his brilliant spell by picking up 2 more quick wickets, one LBW and one caught by Okell. Geordie picked up his 4th wicket in his final over getting their dogged-opener bowled for 20, to leave Geordie with figures of 4-11 off his 8 overs. With Pontblyddyn getting a foot hold in the game, it was Waddelove who was brought into the attack but he started his over horribly, bowling a beamer and getting hit for 2 fours which left Spraggs going off with a hamstring injury when chasing the ball to the boundary. He got the breakthrough, however, with Sandy taking the catch behind the stumps. With wickets falling on regular intervals Tattenhall was right in the game. Waddelove continued on his quest for wickets taking the next 2 wickets, with Sandy taking another simple take behind the stumps and Geordie taking a good catch at mid on. Tattenhall was on top at this point as Dobbo and Freddie soon got in on the act. Both getting their wickets bowled, it was left to Waddelove to clear up the last remaining wicket with Okell taking another catch and picking up another 4 wicket haul for the weekend, finishing with 4-44 off 8. Pontblyddyn was bowled out for 126 off 31 overs.
Tattenhall's innings got off to the worst possible start as Harding was given out LBW off the first ball of the innings. In came Ethan who didn't last much longer as he was bowled for 1 in the same over. Okell then strolled out to the middle and played a couple of nice shots before being triggered by their umpire whilst on 4. Tattenhall was in all sorts of trouble! Out came the 'fresh' Max after a rare night in, to join Roy and this pair built a much needed partnership, recovering the innings from 12/3 to 58/3. Roy was then dismissed for 23 trying to turn to leg and a leading edge offered a simple catch for the fielder – exactly the same as Saturday's dismissal. Waddelove joined Max who was digging in and playing some lovely cover drives, before unfortunately being bowled after hitting the ball against himself before the ball trickled onto the stumps – he departed for a well-made 35. Freddie joined Waddelove in the middle, with the latter soon departing being caught behind for 12, and the Tattenhall (second) wobble was well and truly on, especially when Sandy went a couple overs later for 1 with Tattenhall still needing 20 odd runs to win. With the scores at 98/7, Freddie was joined by the ever reliable Dobbo and they went on their quest to get Tattenhall over the line. In a nervy end, Tattenhall needed 7 off the last over: the first ball was a dot, Freddie hit the second ball for 4 and was followed up with a leg bye . Next bal, with Dobbo on strike he creamed one through the covers for 2 ensuring a Tattenhall win and progress to the next round of the Village Knockout.
Saturday, 24 April
Neston 3rd XI vs Tattenhall 2nd XI Jon Beddow, Tattenhall CC
Tattenhall travelled to Neston in search of its first victory after last week's loss. Skipper Jon Beddow called incorrectly, and the Neston captain had no hesitation in opting to bat first on a good looking pitch.
Steve White opened the bowling with Ranija Abeysinghe and it was the youngster who picked up the first wicket. Steve White toiled away in two spells and deserved more than his single wicket, with Ranija picking up two wickets in his two spells. Mel Dobson bowled well, as did the returning Ryan Spann and ex 1st team captain Glenn Coppack. The Neston opener scored a fine century, and Neston declared on 239 after 49 overs leaving Tattenhall with a target of 240 from 51; a fine chase would be required.
The innings got off to the worst start with the only mistake from Glenn, who called Ranija for a quick single in the opening over, only to see a direct hit and Ranija departing without facing. Jon joined Glenn, and a steady flow of runs followed before Jon was bowled by the opener with the score 60/1.
Glenn continued to bat superbly with contributions from Matt & Ryan Spann before Mark Sandford scored a quick 37 taking Tattenhall close to their target. Joe Clarke joined Glenn, and the pair saw Tattenhall home with several overs to spare. A great win and 25 points.
(Next Match: Saturday, 1 May. 2nd XI vs Bramhall (home). Match Ball Sponsor: The Pheasant Inn.)