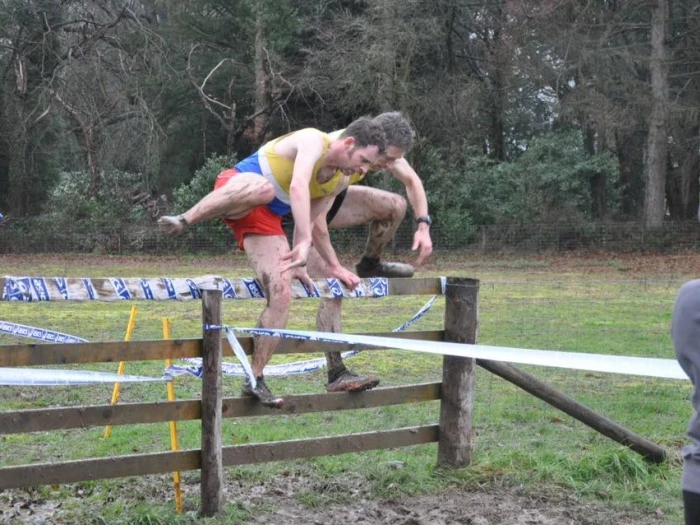 Well, it all came down to this last race at Oswestry; the final fixture of the 2015/16 North Wales Cross Country League season.
As the wind and rain taunted, most members of Tattenhall Runners team were debating what kit to wear to keep out the elements. Would it be warm enough just to wear the club vest? Vest and gloves? T-shirt underneath? Two of our finest runners stood apart unconcerned with the elements, Peter Taylor and Ali McNay. A rivalry had developed, and it all came down to this last race, whoever finished first would take the crown of Tattenhall Men's Cross Country Champion. As they sprinted off for the first lap they were neck and neck, then Peter took the lead following the first of the fence-crossings. Ali was undeterred, however, and gradually clawed his way back before pushing on to take victory in his final race for Tattenhall Runners.
A total of 9 men and 4 ladies competed in this final race and as the courses got muddier, Tattenhall proved how much it loves the wet stuff. Our ladies team pulled it out of the bag, led home as ever by Alice Robinson (5th overall) and Alli Grundy (8th overall), finishing 3rd overall in Division 2, whilst the men did just enough to avoid relegation from Division One, finishing 6th.
In the individual competitions Ali McNay was 5th overall in the men's competition, and 2nd in the Vet 40 category. Simon Ellis was joint winner of the Vet 50 category, whilst Mike Whiteside was 3rd V65.
Our photograph shows Ali McNay and Peter Taylor battling it out over one of the four fence crossings on the course.
Roll on Next Season !
Roll on Next season