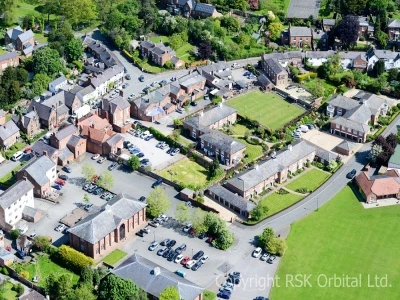 In this series, we spend 10 minutes talking to someone who lives or works in Tattenhall and share our findings with you.
Today, we're talking to Parish Councillor Patricia Black
How are you?
So far, fine thank you.
Where are you from?
Glasgow
How long have you lived in Tattenhall?
More than 30 years now.
What do you like about the village?
When we moved here from Glasgow, we were struck by how friendly people were, and how helpful. I think this reflects Tattenhall today, too. The sense of community is strong and, of course, the countryside around is lovely.
What would you most like to improve in the village?
Parking is an issue on the High Street, and I do think we need more retail outlets to bring people into the village, which would also help to support existing businesses.
Have you found any positive aspects of the Covid-19 restrictions?
The way in which people got together to set up the volunteer helpline was very impressive. Bringing the Church, Parish and school together was a definite positive.
Who do you most admire, dead or alive, and why?
This is perhaps the most difficult question, but i think I most admired Margaret Thatcher. She became Prime Minister at a time when I was just beginning to take an interest in politics and, although not all of her policies were popular, especially in Scotland, she was a ground breaker. She showed that women could be strong leaders and achieve their dreams.
You've volunteered to give up a lot of your time to be a Parish Councillor. What was the trigger for volunteering for this role?
Not so subtle pressure from a friend led me to apply in the first place. I thought I could give something back to the community and over time make a difference.
What do you want to achieve as a Parish Councillor?
Having worked on delivering the houses on Grakle Croft and on improving the Play Area, I see these as achievements of which I can be proud. Making sure the village is maintained properly, supporting and promoting community initiatives such as the Parish Plan and Neighbourhood Plan and getting involved in ongoing projects are all worthwhile endeavours.
What have you enjoyed most in this role?
Over the years, I've met many people from different organisations and have enjoyed engaging with them on projects or forums.
What do you do to relax?
Read, play Scrabble, and just at the moment, shop far too much online. I like to meet friends for lunch, potter in the garden, and see my family. I also like to travel and have New Zealand on my bucket list.
Favourite Film, music, play or TV program?
I don't really have any favourites but like programmes such as Masterchef and enjoy going to the theatre.
Who would you invite to a dinner party or a drink in the pub?
Entertaining good friends and family makes for the best evenings but I would like to meet the Queen. She's an intriguing person and although it might be a bit intimidating, I think it would be a wonderful experience.
If you could time travel, where would you go and when?
I don't think I have a great desire to time travel. Although there are times in history which would be interesting to visit in person, just keeping up with the modern world is challenge enough.
Thank you for your time, Pat