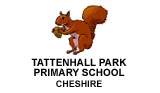 After the Christmas break, pupils at Tattenhall Park are back in school and here is their first news of 2017. More updates to follow!

A Farewell at Tattenhall Park Primary
Last week, Tattenhall Park Primary School said a sad farewell to Ms Allman. Mrs Hawkins, Headteacher, remarked "She has been a dedicated, well-respected and professional teacher for 10 years here at Tattenhall. Many children will have benefited from her excellent teaching, care and enthusiasm not only in the classroom and as SENCO lead, but also for her most popular chess club". Everyone in Tattenhall Park wishes Ms Allman every success in the future. We're sure that there are many past parents and pupils within the village who agree!

School Starts in September 2017?
Do you or anyone you know have a child starting in Reception Class in September 2017 (even if you are trying not to think about!)?
In the past, some parents have been caught out in thinking that there is no need to apply if their child had an older sibling in the same school or if you live in the catchment area, which has resulted in their child being placed in a school that is not suitable. Cheshire West and Chester are reminding all parents that they must apply for their child's place.
The deadline has now passed for applications but if you have not applied, you need to urgently visit https://www.cheshirewestandchester.gov.uk/residents/education-and-learning/school-admissions/information-booklets-school-ad.aspx where you can get information about who to contact.
Dangerous Dog Waste
Dog waste is an on-going issue that Tattenhall faces and sadly this has now affected our local primary school too with parents trying to avoid the mess directly outside the school grounds. As one parent states "This is potentially hazardous for all residents but particularly young children who must constantly look down at their feet to ensure they don't tread it into school, hence spreading it to classroom carpets where children have to sit to learn. It is unacceptable." Look out for more coverage of this current issue on tattenhall.org.