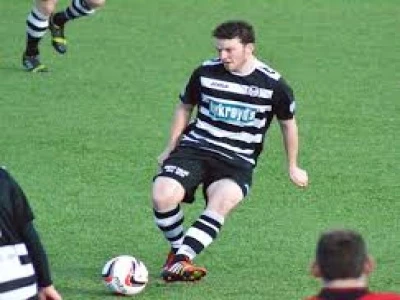 Tomorrow evening, Thursday 2nd July, Rob Pearson, the popular Tattenhall young sportsman and Bala Town F.C. player, will be playing in Europe when his club, Bala Town will be playing FC Differdange 03 of Luxembourg in the first qualifying round of the Europa Cup. Bala Town achieved this by finishing runners up in the Welsh Premier League. The season marked Bala's best in the club's 135 year history.
Ex-Bishop Heber Pupil Rob Pearson is not a stranger to European competition. Having signed for Liverpool F.C. at the age of 9 he found himself playing not only against other Premier League sides but also against the cream of Europe and has faced the likes of Real Madrid, AC and Inter Milan as well as Juventus, Paris St. Germain and many more.
Bala is associated with the Lake and surrounding countryside. However the town's other claim to fame is the successful football club, The Lakesiders, founded in 1880. Bala Town FC, a friendly, family club, is run by enthusiastic chairman, Nigel Akroyd. Their hard working committee has brought about a very talented squad of volunteers and players, building a template for a successful 'small' club. Within the playing squad is a number of ex-Football League Club players, bringing an introduction for young players to experience a successful and vibrant Academy.
One of Robert's proudest moments was watching Michael Owen receive his Ballon d'Or for European Footballer of the Year on the Anfield pitch in 2001. Moments before that presentation, Rob himself had walked on that hallowed turf, in front of 44,000 fans, to receive his Golden Boot Award and the recognition from the famous Anfield Kop.
Rob moved from Liverpool and joined Wrexham F.C. where he spent happy years under the guidance of Liverpool Legend and European Cup Winner, Joey Jones. He was offered a professional contract by Dean Saunders but declined it to take up an International Sports Scholarship at Stirling University in Scotland. During his time there, Stirling University F.C. became the most successful University team in Great Britain. He was appointed captain of Scottish Universities (no mean feat for an Englishman who consequently had to learn the words of 'Flower of Scotland') and was named Man of the Match against the English Universities' team which caused some awkward moments!
Robert's University football career culminated in his call up to the Great Britain Universities Squad.
The Europa Cup ties will be played on the 2nd (away) and the 9th (home) of July. If Bala Town are successful they will face Trabzonspor in the 2nd qualifying round. Trabzonspor are a very successful team from Turkey and should present a tough test for Bala Town. However, strange things happen in football and who knows maybe Bala Town will progress to come up against the likes of West Ham, Southampton or Tottenham. Or could Rob be on his way back to Scotland or even Anfield! No wonder it is an exciting time for Bala Town FC!
We wish Rob and Bala Town F.C. all the best in their European adventure. Watch this space for further updates.