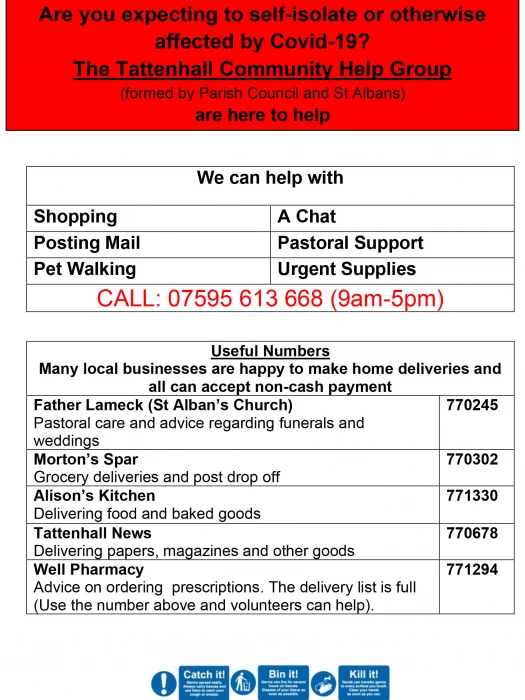 You will recall that the Parish Council and St Alban's Church formed The Tattenhall Community Help Group during the first national lockdown and we just want to re-assure you that we are all on hand as the next national lockdown begins on Thursday 5 November.
The aim is to support people of all ages in the Parish who are in self-isolation for whatever reason. A number of volunteers have come forward to offer help and a number of local businesses are already making home deliveries.
Two other businesses have added their support as follows:
Burwardsley Post Office – 01829 770359
Pig & Co – 01829 770209
There is a single contact telephone number for help requests. Volunteers who may already be making deliveries should be aware that there are risks to themselves as well as to people who are in self-isolation. Sensible precautions would include: not entering houses; there should be social distancing (2 metres) at least between volunteers and recipients; the safest would be to leave deliveries outside a close door; hand washing essential after a call, before touching face, nose, eyes or mouth.
The leaflet which was previously circulated to all households can be seen above, together with the two additional businesses who are adding their support.
Iain Keeping
Chairman Parish Council