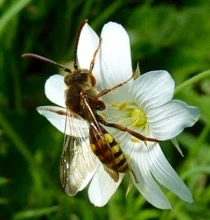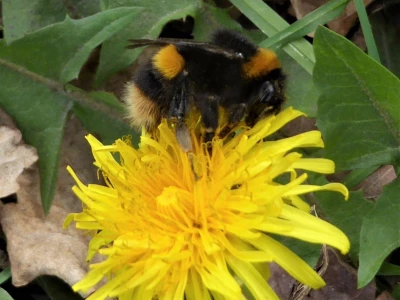 Insects in Tattenhall garden on 16th April: a story of drama and violence!
Did you know that even in the insect world there are cuckoos bees, which just like the birds raid other bees nests and take over – killing the hosts eggs and laying their own eggs leaving their brood to be nurtured by the original bee! Gardens are full of them at the moment alongside the solitary bees and hoverflies. And did you know that there is a bee called a Harry Footed Flower bee- doesn't that sound like a fairy story!
Butterfles are also beginning to emerge from hibernation -Orange tips, Speckled Woods, Brimstones and Peacocks have been seen.
The first photograph is a bee not a wasp, tiny and delicate, but out to lay their own eggs in the nest of another species. The second photograph is a Buff tailed bumble bee queen.
A survey by a local entomologist, has been carried out in the past couple of weeks to look at what is happening in a Tattenhall Garden to read the full survey and see more photographs of what you might expect in your garden. go to:
CLICK HERE