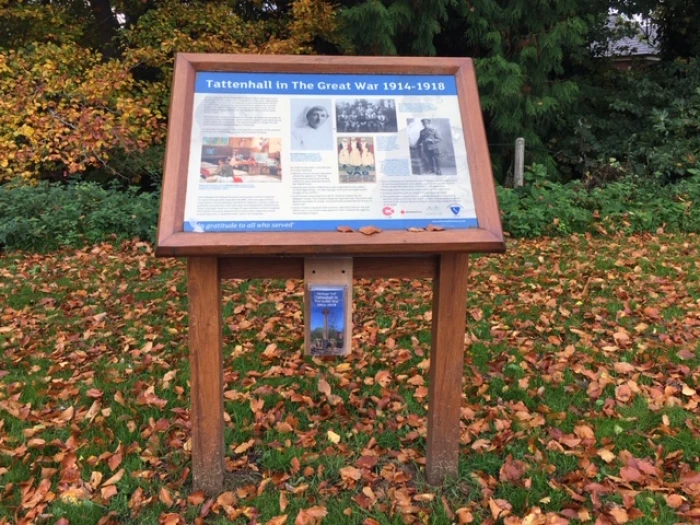 It might be that residents would wish to walk the 'Heritage Trail' around the village either during Half Term or, importantly, during the period of Remembrance in November.
This is particularly poignant this year since not only is the Tattenhall War Memorial area cordoned off with what appears to be some slippage (we await the survey report), but because Remembrance itself will be a scaled-down event both locally and nationally because of the Covid pandemic.
Produced by Tattenhall Local History (and fully funded by Redrow Homes), the detailed local history walk pamphlet highlights key aspects of local heritage, and particularly the role of Tattenhall in the Great War.
The pamphlet, created in 2018 in commemoration of the Centenary of the Armistice, was circulated to every household in the village.
Mindful that many newcomers may not have an individual copy, we have now attached a pamphlet holder to the Historical Interpretation Panel located opposite the War Memorial. Please help yourself and we will keep the pamphlet holder stocked (we appreciate that some of you may wish to wear gloves whilst handling the document during the current covid-secure period).
Copies can also be downloaded by CLICKING HERE.
*Postscript – the pamphlet holder has been temporarily removed and will be re-positioned at a higher level – one or two residents have contacted us to say it was a tad low – no sooner said than done everyone!