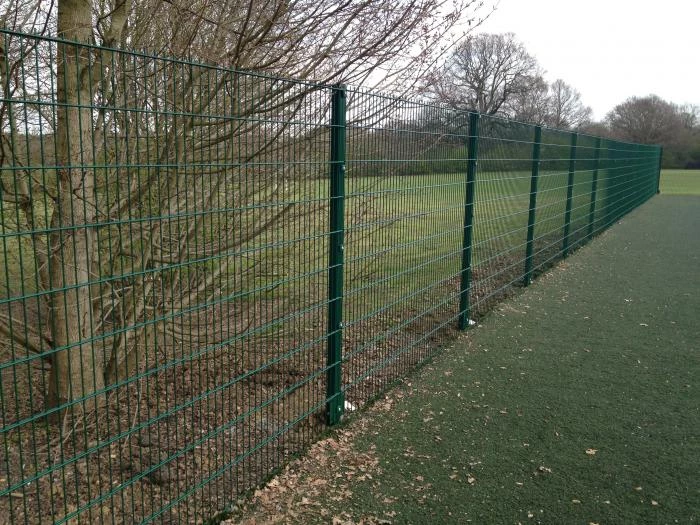 Update – We were advised on 2 August that the 'consultation' is closed.
Many of you have contacted us because you could not access the 'Consultation Drop In' sessions which were held on Monday 23 July in relation to the proposed 1.8m high perimeter fence to be installed on/at The Park/The Park Primary School – some of you were on holiday, some simply could not get back to the village for 6.00pm and others were unable to attend because they were unwell or had relatives who were unwell.
CLICK HERE to view the questionnaire (supplied by CWaC) regarding the proposed perimeter school enclosure fence. You can download and/or print this questionnaire.
Had you been able to attend the 'Consultation Drop In' sessions, then you would also have seen
1. a laminated A3 copy of the two types of proposed fencing (one of which is shown in the image and the other which was not dissimilar in style to that which already exists)
2. a laminated A3 copy of an aerial photograph of The Park/School on which the proposed enclosed area was shaded (comprising 92% of The Park)
3. a document of 'some frequently asked questions' which can be viewed by CLICKING HERE
For those residents unable to attend the 'Consultation Drop In' sessions, then you now have an opportunity to complete the questionnaire and to then send it marked for the attention of both
Carolyn Davis, Senior Manager Education Infrastructure & Cllr Mike Jones, Tattenhall Ward Councillor
Cheshire West and Chester Council CWaC,
3rd Floor,
Nicholas House,
Chester CH1 2NU
The questionnaire states that the analysis of the data gathered from the consultation will be published on both Tattenhall Online and on the School Website. We will keep you informed.
(our image is for illustrative purposes)