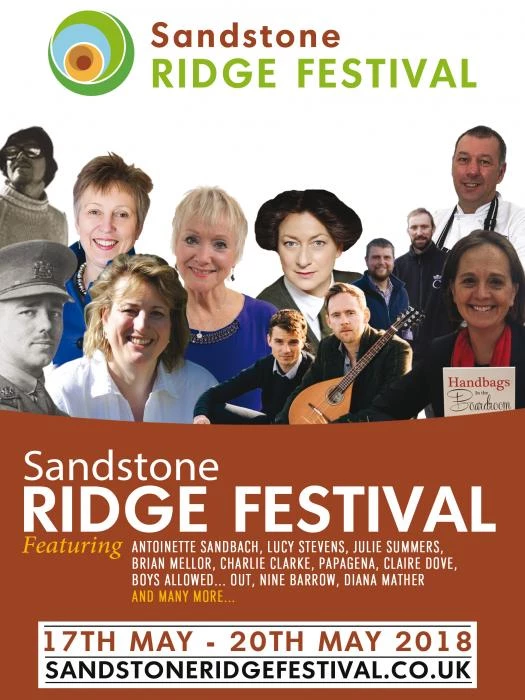 For its second year, The Sandstone Ridge Festival is delighted to welcome authors, musicians and artists to this unique event covering the beautiful Cheshire villages of Bickley, Cholmondeley, Bickerton, Peckforton, Bunbury, Malpas, Burwardsley, Harthill and Tattenhall from 17th – 20th of May.
Award-winning poet, historian and novelist Dr Gladys Mary Coles talks about Wilfred Owen, who was inspired to write poetry while walking in the Bickerton Hills. 'Nuns and Roses' is a fabulous musical extravaganza performed by Papagena, an all female vocal group who explore the wealth of music from medieval times to the present day. Well known Cheshire-born author (Home Fires, The Jam Busters), Julie Summers, talks about her book 'The secret lives of Britain's Country Houses 1939-45' which offers behind-the-scenes glimpses of life in some of Britain's greatest country houses that were occupied by people who would never otherwise have set foot in such opulent surroundings.
To celebrate the 100th anniversary of the Representation of the People Act 1918, 'Grasp the Nettle' a new play with music, starring Lucy Stevens, will take place at the Barbour Institute and is based upon the exploits and passions of Dame Ethel Smyth, composer, writer and suffragette. With the 4 day Art Exhibition at The Cheshire Art Hub and guided walks in Bickley and Cholmondeley Gardens, there is definitely something for everybody.'
Tickets are available from The Post Office, Tattenhall High Street or CLICK HERE.