New Arts Festival launches in May 18th-21st

The Sandstone Ridge Festival is a new arts and community festival celebrating Cheshire's artists and performers, with music, theatre, art exhibitions, author talks and poetry. It launches for the first time this year from May 18th-21st.
The villages of Cholmondeley, Burwardsley, Tattenhall, Bunbury and Malpas run alongside the Sandstone Ridge and will hold events against the backdrop of some of Cheshire's oldest, prettiest villages and stunning landscapes.
The Sandstone Ridge Trust is also supporting the festival.
Each village will host a day:
Thursday 18th May Cholmondeley
Cholmondeley Garden Tour with RHS Chelsea Flower Show Award Winning Head Gardener Barry Grain.
Charge of The Light Brigade. Who Blundered? Best selling historical author Saul David discusses.
Friday 19th May Bunbury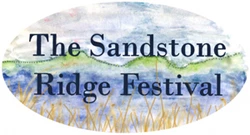 Literary Lunch with renowned authors Matthew Dennison and Gareth R Roberts.
Eight of the country's most talented young singers, the Fellows of the National Youth Choirs of GB perform a variety of music styles in a one-off concert for the festival to appeal to all.
Saturday 20th May Malpas
Lady Milena Grenfell-Baines in 'The Last Train to Tomorrow' tells the story of her journey out of Nazi- occupied Czechoslovakia on the Kindertransport.
Former Cheshire Poet Laureate and widely published poet John Lindley performs a medley of his work.
Mark Radcliffe, Radio and TV presenter, holds his one man show with music and anecdotes: Should You Be Interested?

Sunday 21st May Tattenhall
Sandstone Ridge Artist Kim Atkinson exhibits her work of the landscape.
Sandstone Ridge talk: Chairman of the Sandstone Ridge Trust, Andrew Hull, talks about the Sandstone Ridge – Past, Present and Future.
Whattalife! – a one woman play with music set in the 40s based on the life of Kathleen Ferrier and starring Lucy Stevens.
The Festival Base will be the Cheshire Art Hub, Burwardsley which will run an exhibition of artists and craftspeople throughout the festival. Food and drink available at all venues.
This is a new initiative with the ambition to grow the festival year on year to become one of Cheshire's most popular art festivals, generating interest, debate, social engagement and increased visitor numbers to the area.
Tickets are available locally at:
Tilly's Coffee Shop, Bunbury CW6 9QS
Cheshire Art Hub, Burwardsley CH3 9NU
The Post Office, Tattenhall CH3 9PX
The Old School Tea Rooms, Malpas SY14 8NN
Or CLICK HERE to visit The Sandstone Ridge Festival website for more information and to book online.