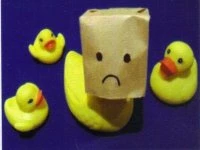 With Christmas fast approaching we are sure that you will not want to miss the next event in the Rural Touring Arts Programme.
This Friday 4 December at 6.30pm in the Barbour Institute, the Northumberland Theatre Company presents 'The Ugly Duckling'.
The production is an enchanting re-working of Hans Christian Andersen's classic story by the popular children's writer, Neil Duffield; a story about growing up, finding you own identity and a mother's struggle to protect her children or let them go?
Packed with splendid songs, dance and visual treats, this is a funny, heartwarming story for all the family.
The Chester Chronicle's review sums it up perfectly – "It starts with a rock'n'roll rooster and ends with a shimmering swan and in between is the most fun your kids will have this Christmas."
So, a great night out for all the family – children aged 4+.
The show lasts approximately 1hr 45mins.
Tickets: £9.00 Adult & £6.00 Child from "Complement" Tattenhall High St.
or
Jill at The Studio. Tel: 01829 771649 / 771374
Email: l.davenport987@btinternet.com or Book online by CLICKING HERE