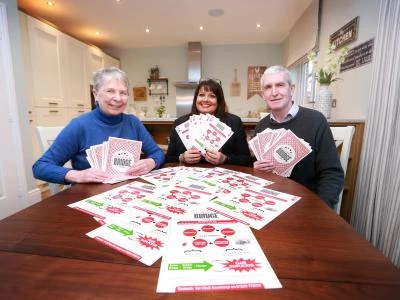 Tattenhall Bridge Club has played its cards right after securing a donation from Redrow Homes.
After Redrow launched its Tattenhall Community Fund last year, club secretary Valerie Meeks applied for £150 of funding so they could produce new marketing materials in order to attract additional members.
She said: 'Tattenhall Bridge Club has been meeting almost every Friday since the early 1980s, a few of our members have been with the club for over 20 years. However, time has taken its toll and we are now really keen to increase our membership. With the significant rise in hall hire costs the club's future is sadly now under threat.

The money donated to us from Redrow Homes has been put to great use to create new flyers and posters and we'll be distributing them around the local area. I believe the Bridge Club is a real asset to the village and I hope we can now encourage more people to join us at the Barbour Institute on a Friday evening from 7pm'.
You will recall that Redrow set up a community fund of £5,000 for Tattenhall at the end of last summer and invited local causes to apply for a proportion of the funds. The lucky recipients were 10 local community groups, including the Tattenhall Bridge Club who was given £150 cash for marketing materials.
Redrow's North West sales director Jason Newton added 'This is exactly the kind of community group that we like to support, one with a local history and one that helps people enjoy themselves and get out, socialise and exercise the brain cells! It's these kind of clubs that boost communities and we hope the money donated, and the resulting flyers and posters, will help in the club's bid to increase membership'.
Our image shows Redrow sales consultant Anita Gillespie with Tattenhall Bridge Club members Val Meeks and John Ryan and some of the literature funded by Redrow.