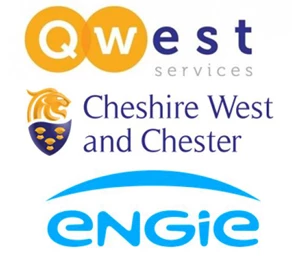 Cheshire West and Chester Council is teaming up with energy company ENGIE and Qwest Services to launch Qwest Energy – a new local energy platform that aims to reduce residents' financial stress, support affordable warmth initiatives in the community, reinvest in the community and improve the environment.
Residents could make substantial savings by taking advantage of the new service and support investment into local projects via a Community Fund, which will tackle issues around fuel poverty and offer discounts to those in areas where fuel poverty is high.
For every customer who joins Qwest Energy, an annual contribution will be made to the Qwest Energy Community Fund. The fund could see up to £600,000 invested back into the community over the next five years, supporting initiatives such as:
a discounted energy tariff for prepayment meter customers living in areas where fuel poverty levels are high energy efficiency advice workshops and drop-in sessions throughout the borough home visits for people on income-related benefits to provide tailored advice on saving energy.
A range of tariffs will be available, with customers being automatically rolled onto Qwest Energy's cheapest comparable deal at the end of their fixed-term contract thanks to the 'Rate Rollover Promise'.
CLICK HERE for further details