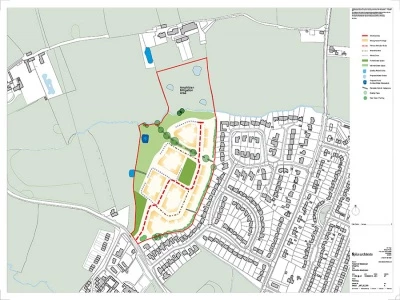 The re-opened planning appeal from the three developers:
* Ashley Wall (137 houses west of Tattenhall Road)
* Taylor Wimpey (110 houses north of Chester Road)
* Barratt Homes (68 houses south of Chester Road)
takes place on Monday 2nd – Friday 6th November 2015 at Wyvern House, Winsford. The appeal will be completed in five days.
The meeting will be open to the public and the proceedings may also be watched by webcast from Cheshire West and Chester Council website. A good attendance by residents, even for short periods of time, will show our commitment to, and enthusiasm for, the neighbourhood planning process and local empowerment. Please try to look in – we understand that on Monday 2nd November pm, time will be spent on technicalities! But, your support would be welcome on Tuesday 3rd November – Friday 6th November between 9.30am – 5.30pm.

Cllr Weaver has emphasised that only 4 new issues will be considered:
1. CWaC housing supply figures
2. the impact of Tattenhall and District Neighbourhood Plan
3. the Nether Peover appeal
4. the case of Woodcock Holdings Ltd v Secretary of State DCLG & Mid-Sussex District Council
Just to remind everyone of the context:
After all three applications were refused by CW&C in September 2012, the developers appealed to the inspectors in Bristol. Following a 12-day public inquiry hearing in June 2013 and before any decision had been reached, our Tattenhall and District Neighbourhood Plan became 'made' (and official) and also CW&C's Local Plan (Part 1) was adopted. These and other new factors have caused the Secretary of State at the DCLG to re-open the Inquiry.
The level of housing supply throughout the whole CW&C area will be an important issue. If this supply is sufficient, our Neighbourhood Plan should carry full weight.
The developers will be represented by barristers and be opposed by a barrister for CW&C and also by Mike Jones, Carol Weaver and Graham Spencer. Some residents will make statements on the Thursday morning.
After the hearing, the Inspector (Mrs Christina Downes) will report to the Secretary of State (Greg Clark) and then he will make the final decision on these appeals.