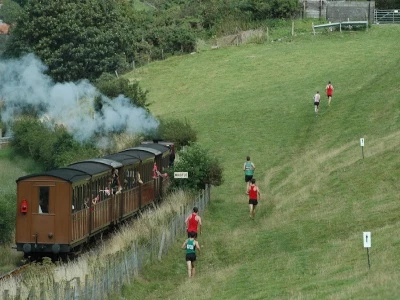 Summer is, I'm told, closing and it will be all too soon before the nights start drawing in. If like me you have over-indulged on the BBQs and Beer (or indeed white wine spritzers) over the holiday season it's time to dust off those trainers and come on down to the Sports Club on Tuesday and Thursday evenings at 7pm to make the most of the cooler weather while the hills remain accessible.
Catch us on our new website; CLICK HERE for full details.
Runners of all abilities welcome!
Tattenhall Runners were again out over the weekend although holidays and injuries limited the numbers tackling the hills or open roads. That said, the annual 'Race the Train' events took place in a sunny Tywyn, mid Wales, on Sun 15 Aug. This classic series saw four Tattenhall Runners this year race the Talyllyn train from Tywyn on its journey to Abergynolwyn and back. In order to do this runners use a mixture of public roads, lanes, un-metalled roads, tracks, agricultural land, and rough grazing pastures and over 1200 runners took on the challenge. The longer 14 mile Rotary course was tackled by Peter Taylor and Rob Chambers with Pete completing the course in an outstanding 43rd place in a train-beating time of 1hr 34min 33sec and some 13 minutes before the train. Rob Chambers very narrowly missed out on the target arriving only 47 sec after the train had arrived! A shorter 10k Quarry Challenge was undertaken by Lance Boseley and Jen Chambers, both achieving very creditable times but unfortunately arriving after the train.
So why not come down and join us and take on the challenge next year!