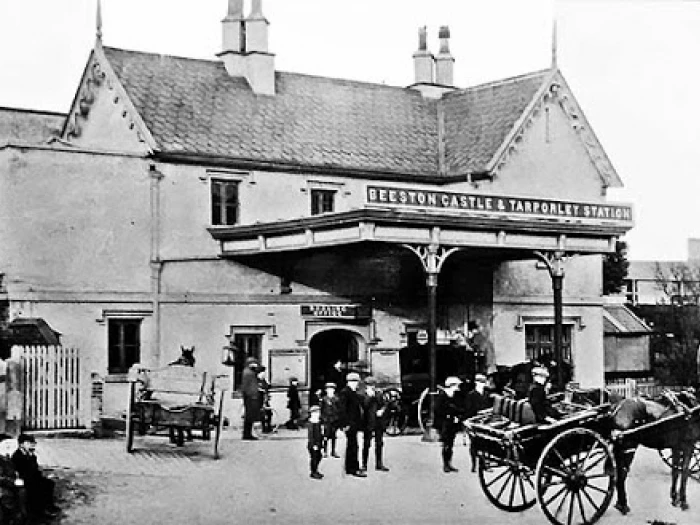 PLANS to reopen a train station which has been closed for more than half a century have moved a step closer.
The proposal to reinstate Beeston Castle and Tarporley railway station has made it on to a shortlist for Government funding, which would be used to help pay for transport and economic studies as well as creating a business case.It is one of 50 bids from across England and Wales which have been submitted for consideration by an expert panel who will announce which ten have been successful by the end of the summer.The Department for Transport will fund 75 per cent of costs up to £50,000 of successful proposals, with future funding to develop projects subject to agreement of the business case.
The proposal to reinstate Beeston Castle and Tarporley railway station is being spearheaded by railway construction professional and local resident Michael Flynn, with the support of Eddisbury MP Edward Timpson.He has set up the 'Beeston and Tarporley Station Reopening Group' on Facebook which will provide updates on the plans, and believes they have put forward a "compelling case".
https://www.facebook.com/groups/748742379233545/permalink/769037840537332/?__tn__=CH-R
In the bid submitted to the Department for Transport the group envisages that the Transport For Wales rail services would stop at the new station, providing 23 services a day to Chester from Monday to Saturday, and 25 to Crewe (24 on a Saturday).On Sunday there would be 28 services to Chester and 27 to Crewe.
Posting on the Facebook group last month, Michael said: "On the 19th of June in conjunction with Ed Timpson our local MP we submitted our application to the DfT's Restoring Your Railway Ideas Fund."The fund is designed to support the development of proposals and business cases to enable promising ideas to be developed into fully fundable propositions.
"The proposal was a substantial document of 35 pages plus a further 20 pages of appendices and was the result of much hard work. We believe that it presents a compelling case for funding.
"A DfT panel will now consider our proposal and we expect to receive news of their decision towards the end of the summer."
Beeston Castle and Tarporley railway station closed back in April 1966 as a result of what became known as the 'Beeching cuts'.