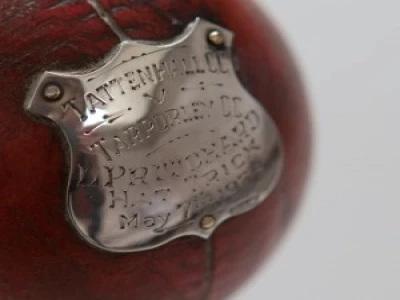 Tattenhall CC v The President's X1

The President of Tattenhall Cricket Club, George Richards, will be delighted to see all cricket lovers in the village at The President's Match to be held at The Flacca tomorrow, Sunday 19 July.
More than that, he has threatened to buy any former cricketer, over the age of 65, a drink!
This long standing fixture, going back many years at Tattenhall, even before the Second World War, has always proved a successful day for the club. Visitors from far afield come down to the Flacca, either to participate as a guest of the President or just to enjoy the company on the day.
Refreshments will be available, and any past player will be offered a "cup of tea and a bun"!!
Please come and see us on one of the special days of the year.
(The picture, above, is of a trophy from 1938 – Tattenhall CC v Tarporley CC when Les Pritchard achieved a 'Hat Trick' i.e. 3 wickets in 3 consecutive balls. This image has been reproduced with permission from the Tattenhall Local History Website – you can read more about this story by visiting this site; just CLICK HERE)