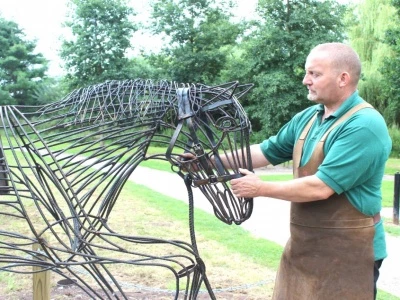 Remarkably, 'Tattenhall Remembers', our Centennial anniversary event commemorating the beginning of The Great War, was a year ago. During that weekend of 3-4 August 2014, 'Tattenhall Remembers' witnessed community-wide engagement at its very best.
Our lasting legacy within the village has been 'George', our 'Horse of War', in tribute to the role of horses in that conflict. The War Horse sculpture was the creation of talented Andrew Smith, forge master and artist in metal.
This year, Andrew celebrates 35 years working in Tattenhall and on 9 September 2015 his 'War Horse' sculpture will become an illuminated focal point in the village, adjacent to our War Memorial and flag pole.
Andrew, a former Reaseheath engineering student, was commissioned by Tattenhall and District Parish Council to create our 'War Horse' sculpture. Originally, Andrew studied agricultural engineering and farm mechanisation. He remembers Reaseheath (known then as 'Cheshire College of Agriculture') with fondness, stating that 'the College provided me with a great set of skills and grounding in the basics of engineering, which has certainly stayed with me as I've progressed in my career. One thing we made as part of the course was a toolbox which I still use today. I also made a draw bar to put on the back of a trailer or car – I've still got that too – some things are truly timeless'.
With an interest in the blacksmith's craft from a young age, Andrew spent much of his early career researching, self-teaching, working and learning simultaneously to build up his forging skills. After initially working in the agricultural industry, Andrew decided it was time to allow his vision to become reality and he built his own business, Hill View Forge, which is now much loved in Tattenhall and its locality.
George, the 'War Horse' will be illuminated on 9 September, the date when Queen Elizabeth II becomes the longest-reigning monarch in British history. She will break the record of her great-great-grandmother, Queen Victoria. Victoria's reign was 23,226 days, 16 hours and 23 minutes or 63 years and seven months!
So, September 9 will cast a 'new light' on our monarch's length of duty and service and, indeed, on our very own 'Horse of War'.
Watch this space for further news relating to the 'switch on'.
To view the archived material from 'Tattenhall Remembers' visit our local history website, just CLICK HERE.
Our particular thanks to Katie Burt, Alumni Officer, at Reaseheath College for assisting with this story – if you wish to visit the Reasheath College site, then CLICK HERE.