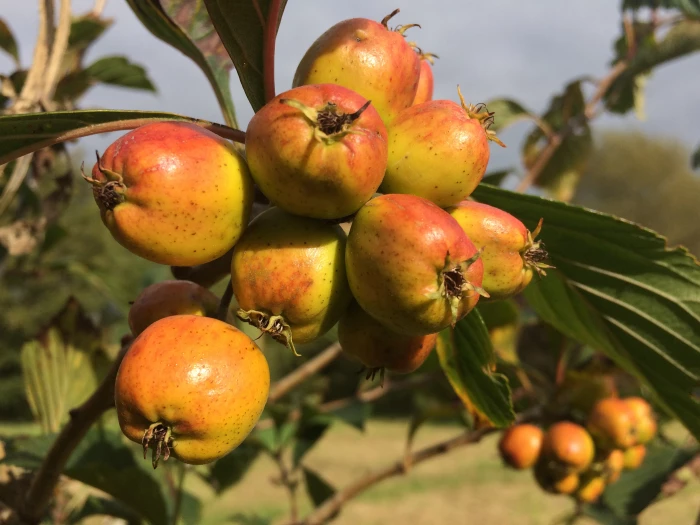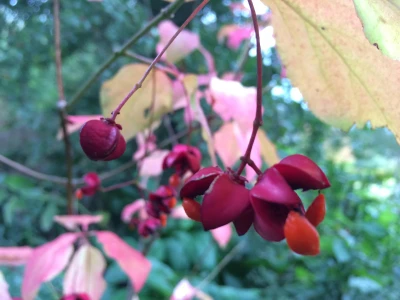 Frost!- one in May and now who would have thought we would get a frost so early. However it was interesting to see that although roofs and cars were covered in frost, the main flower borders did not seem to be touched. The pumpkins however have lost their leaves and now need to come in to a sunny windowsill or greenhouse to make sure they ripen and get a hard tough skin. This will ensure they have a chance to survive keeping until you want to cook them. But this may be a herald of things to come, so it is time to sort the garden out for winter.
But the dry days and cold nights certainly bring out the autumnal colours. Photograph: Hawthorn pretending to be a crab apple! – Crataegus punctata var aurea Photographs by Jannie Hollins.
Other shrubs for wonderful autumn colour are euonymous, this one is euonymous planipes-Sancho and although through the rest of the year it is a fairly dull free shrub it certainly erupts in autumn.
There is a wide range of euonymous available now – Red Cascade and alata are also well worth seeking out. The native form of euonymous europea, the Spindle tree, can grow into a small tree and it certainly still has the capacity to bring the garden alive at this time of year. It is also a good source of food for birds in the autumn.
Click on the images to enlarge them.
Pull up and compost any remaining annuals. Replace them with winter and spring flowering pansies, wallflowers, bellis and primulas, not just in the garden but in containers too. Empty tubs are such a missed opportunity!
Spring flowering bulbs are still available to buy and to plant so make sure you have enough for a blaze of colour next year. Tulips will be better for having had a late planting as it helps them to avoid fungal disease.
October can bring strong winds so check your tree stakes are nice and firm and move anything flimsy undercover.
Improve the condition of your soil and add nutrients by sowing green manure – winter mix. This has to be one of the least labour intensive, most environmentally friendly and easiest method of improving next year's crops.
This is a great time for planting or repairing a hedge.