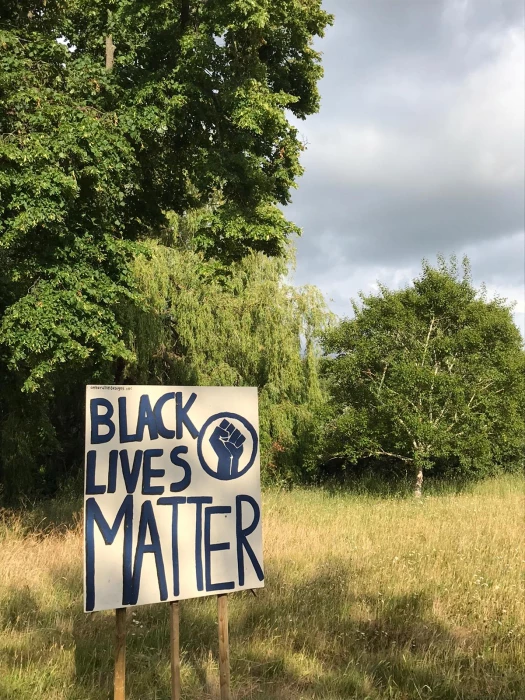 MORE THAN A SIGN?

This is first and foremost a message to thank the many village people who positively supported the sign marking the events of the Black Lives Matter Campaign.
All lives matter but the BLM movement was never about a competition between the importance of any single human life over another. It is about the long and ongoing experience of racism as it is experienced by black peoples in our world, and how we can change that experience. It does not mean that other lives are not important, but how often here, or anywhere in the world do we see a person killed by a police force with a sense of impunity? At the same time do we really understand what it feels like to experience daily prejudice and abuse – to be seen as not as equal as white colleagues and neighbours as well as by the stranger in the street?
The impact of white racism, and the importance of equality more generally, is not an easy matter to tackle. The movement to focus on the ever present reality of racism, as it effects black people in our communities, has a long and often shameful history, The impact of western colonialism, in particular the development of the slave trade, has left us all with a deep prejudice that affects both ourselves and those whose skin colour is darker. It is a matter for me, living in a Cheshire village, to become more conscious of these prejudices and tackle them in our day to day lives and relationship with each other. I am sad that this sign resulted in someone feeling they had to attack it and pull it down last week and then, in the recent days, feeling they should remove it altogether. However, the reality of racism will not go away and I hope this issue to be given its 'chance to breath'.
Removing a sign will not help and neither will the problem go away but if it starts a serious conversation here in Tattenhall about the fact of race as an aspect of inequality then that's progress.
The sign was initiated by young people in Tattenhall who felt strongly that the events in Minneapolis, and their significance to the wider global community, need active support wherever we live and that means as much here in Tattenhall as in Toxteth, Torquay, Thirsk or Tonypandy.
As with the issue of the Climate Crisis we all have a responsibilty to repair what we have damaged and the same is true of issues of inequality and prejudice. It is the younger generation who understand the importance for urgent action and the need for everyones support. It will be good if we can all do a bit to support their efforts.