Sat 11th Jul 2020

Partly cloudy 17°C
The beautiful village of Tattenhall in Cheshire
Tattenhall Garden Society:
June 2020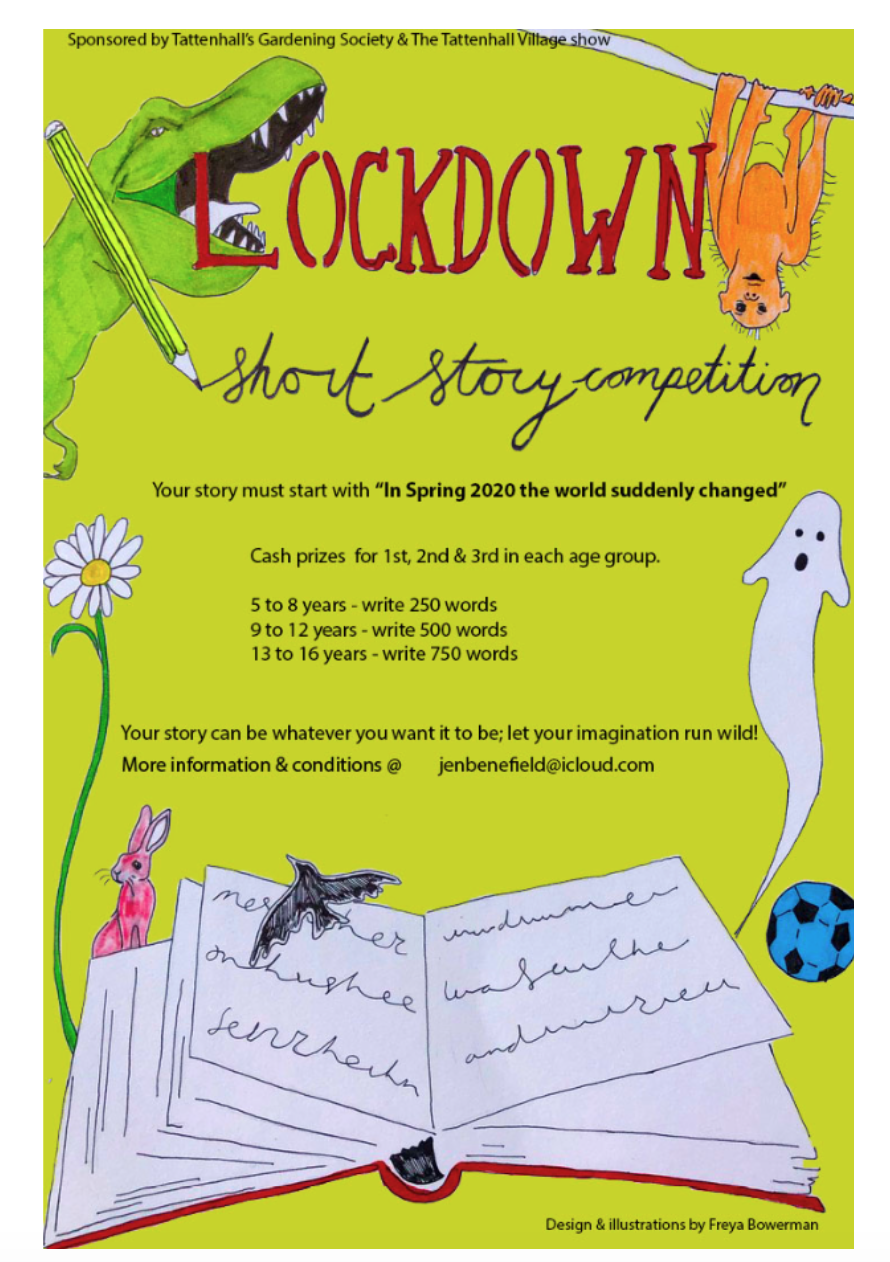 Short Story Competition and there will be prizes!
"In Spring 2020 the world suddenly changed"
Tattenhall Lockdown Story Competition
What a curious time this is — no school- no meeting friends in the park or visiting cousins or grandparents. Who would have imagined such a world?
Well, here's a chance to let your imagination run wild and write your part of Lockdown History.
All you need to do is enter the Tattenhall Lockdown story writing competition, with cash prizes for 1st, 2nd, and 3rd in each age group.
Sponsored by Tattenhall Gardening Society and Tattenhall Annual Show.
It can be funny, spooky, fantasy, happy , sad, made up or true — just make sure its your most interesting story ever!
Your story must start
"In Spring 2020 the world suddenly changed".
The length of the story and prize money depends on age_-
5-8 years- write 250 words( 1st prize £20, 2nd £10, 3rd £5 )
9-12 years — write 500 words ( 1st prize £25, 2nd £15, 3rd £10 )
13-16 write 750 words ( 1st prize £30,2nd £20, 3rd £15 )

Less exciting but still important bits-
Your name, age and an adult's contact number must be clearly written at the bottom of your story.
Stories are to be posted in the special post at Tattenhall Post Office between 22nd and 27th June
You must live within 5 miles of Tattenhall village centre to enter.
Winners will be announced on Tattenhall.org and posted on the Post Office door on July !1th.

Good luck to all of Tattenhall young Authors. The judges are really looking forward to reading your entries.
popular recent storiesAlso in the news