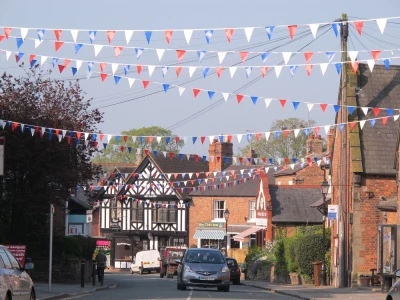 Thinking to the future, after the virus has passed, I want Tattenhall's High Street to maintain all its current amenities and not become a shadow of its former self. This needs us to take positive actions now if we want to sustain this vibrant village.
Just one example of a place we need is Alison's Country Kitchen. Let's all use her currently available services, but let's also get takeaways from all the locations offering fast or slow food, to make sure they survive this time of crisis. Hordes of kids to feed? Get Alison's or the Marina to become the school dinner providers of choice. If you are used to eating out, but also to avoid hysterical/binge food shopping, see what Tattenhall Spice and Fish & Chips @ No 3 have to offer. Check out what the farm shops can offer in the way of prepared and to-prepare meals. Some if not all of the above places have posted items on Tattenhall Online or have separate Facebook pages and I have had at least one relevant flyer come through the front door, so it shouldn't be that tricky to place orders.
I suggest that our default for food, essentials and fun should be to buy locally; little and often. Townies will keep the big stores afloat, in person or via online purchasing, but they won't do much for the facilities in and near villages. The team at SPAR Tattenhall are working their socks off to keep shelves filled and can provide deliveries to those who need it. Just down the road, Gerry Farrell has an excellent range of meats and more. Save yourselves a disappointing trip to Chester and succeed in Tattenhall.
For those of us not having to stay at home, a one bag limit would mean you could walk or cycle down to the shops every day, get some exercise, leave enough on the shelves for others, as well as cutting down on your car or umpteen delivery vans from Chester or further away needing to burn fuel. Win-win? Older kids could take on this sort of shopping too. If you cannot get all the essential 953 ingredients you thought you needed to buy yesterday, remember "Ready, Steady, Cook" and the interesting and varied meals you can make with 3 or 4 disparate items plus the treasure trove of goodies at the back of your cupboards. Get out the cookbooks or get Googling for possible menus. Have a (virtual?) competition with school mates for the best meal made from, say, tinned corned beef, chickpeas and soy sauce. Have a spice swap!
This "in village" focus should extend to other providers. We have craft (Ditzy Rose and Pluto House), newsagents (Tattenhall News and SPAR) – and somewhere for our health needs, Well Pharmacy. If you can think of other places within walking or biking distance, let us know.
Our thanks to Joanna Bauldreay for providing this article – if you want to write in, then we welcome all contributions.