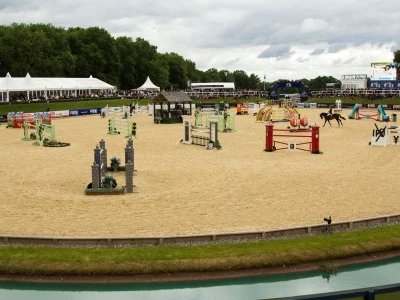 Master of The Puissance Continues Winning Streak
Against the beautiful backdrop of Bolesworth Castle, a nine-strong field of horses and riders each came forward to take on the challenge of the big red wall in the eVet Drug Puissance.
Firm favourites from the beginning, Puissance Specialists Guy Williams and Mr Blue Sky UK delighted the crowd in every round, soaring over the wall with ease and finishing victorious over 2m15cm. Second place was secured by Puissance newcomer, Ireland's Brendan Murphy with Erne Riverrun, and Daniel McAlinden with Keatingstown Z Wellie Two.
It was a real priviledge to see one of the greatest Puissance horses of all time, Mr Blue Sky UK in action at Bolesworth, and the crowd certainly showed their gratitude too!
Ireland saves the best 'till last!
€The climax of the show and the moment we have all been waiting for. The Cavago CSI3* Grand Prix winner has been determined with the title going to the Irish superstar, Billy Twomey with his own and the late Sue Davis' Chat Botte E.D.
The last to take on the testing jump off course, the Casall stallion cruised around the jump off, never missing a beat, showcasing a true showjumping masterclass. Billy described the win at Bolesworth as "special for him", due to his connections with the show and those locally too. On the horse, Billy commented: "He's an extremely talented horse, part owned by the late Sue Davis. As a young horse, he proved challenging and headstrong but is a real winner who is super consistent in the ring."
Link to All Results


Full round-up of all the action – CLICK HERE