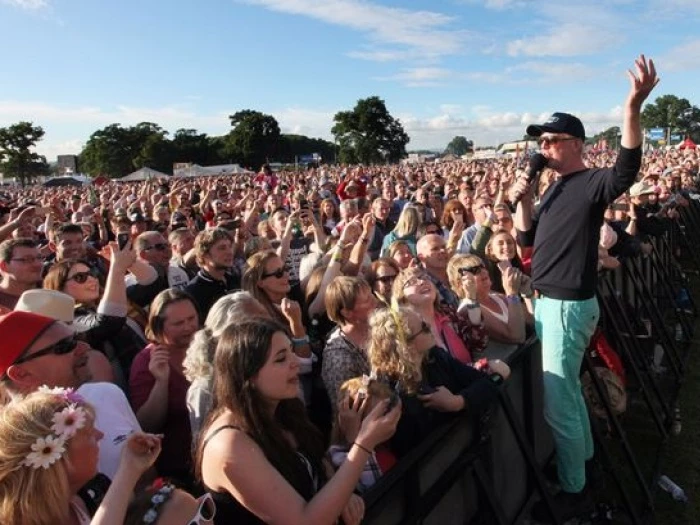 As the CarFest organisers turn their attention to the South and Bolesworth look forward to the Liverpool International Horse Show, here in Tattenhall we have to be content with the thought that CarFest will be back! Chris Evans stated that the deal for 2017 had been done (over a slice of lovely fruit cake) and Diana, Nina and Cleo Barbour all expressed their desire to see CarFest return to their 'garden'!
Personal highlights for the Webteam included Faithless on the Friday night (how can something so loud and exciting also seem spiritual?), the 'Formula 1 Car' gave goosebumps and the 'Vintage Village' was a perfect spot for just taking it down a notch! What was your highlight???
Speaking to Tattenhall residents at the festival including Steve the Postman, Louise the Brownie Leader, Pam from Complement, the girls from Alison's and many others – I did not encounter a single person who did not have a great time – so for those who have not yet experienced this 'BBC Children in Need' fundraiser – come along next year – you'll have a blast!
Positive feedback was also received from the Parish Council who agreed that the event had been of great benefit to the village. This was echoed by the team at Morton's Spar – not only did visiting campers stock up on the essentials, including beer and breakfast stuff, but they were all very cheerful and friendly to boot! It was also noted that the Spar staff who attended CarFest had a wonderful time – with Bryan Adams getting a special mention for being a brilliant climax to the weekend. Further benefit to the High Street businesses was experienced by Alison – who although she might have been expecting an easy Monday morning after her sterling effort running the CarFest Children in Need Cake Sale, commented that it seemed like every departing camper called in at Alison's on their way home for a full English – that's a lot of rashers!! Camper vans were also spotted tumbling into The Cheshire Ice Cream Farm on their departure and nearby farmers had transformed their local fields to support the overflow, complete with additional portaloos and showers. It has also been great to see how many people checked in with tattenhall.org for news, updates and traffic information.
The Barbour family at Bolesworth stated "We are thrilled to have hosted the incredible CarFest for BBC Children in Need over the last few days! Thank you to Chris Evans & his team for making the weekend utterly magnificent!" And Chris Evans went on record to say that it was the best CarFest ever, although he is very excitable, most of the time!
So until next year – we'll leave you with some photos from the weekend, click to enlarge and enjoy.