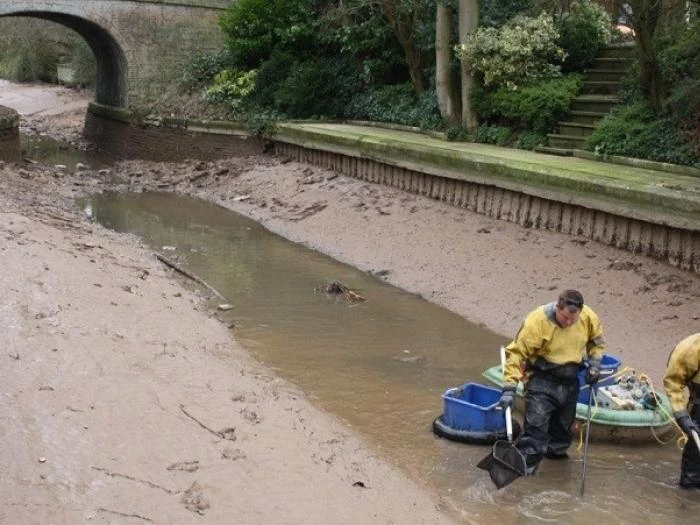 Update on collapse of canal embankment on Shropshire Union canal.
We reported last week on the collapse of the canal embankment near Middlewich. Not only were canal boat owners rescued from their heavily tilting boats but fast action by emergency staff resulted in nearly 10,000 fish being rescued from the stretch of canal in Middlewich affected by the breach.
MEM Fisheries staff spent a full day on Saturday rescuing roach, perch, gudgeon, bream and eels from the three quarter mile length between Stanthorne Lock and Wardle Lock on the Shropshire Union Canal Middlewich Branch, which has been drained.
They collected the affected fish, including a massive 4lb eel, into large buckets and then released them back into water further along the canal beyond Wardle Lock, towards Middlewich town centre.
Canal fishers will be pleased to know that such quantities of fish live in the canals, but nature lovers will also be interested that the canal supports such a wide variety of fish, including large eels which are on an endangered list
The canal was constructed in 1827, it is nearly 200 years old.
Engineers are on site trying to understand the cause of the breach and will be making an initial assessment regarding how to progress repairs, likely timescales and costs.