Dark Horse: Story of a Dream Alliance cert PG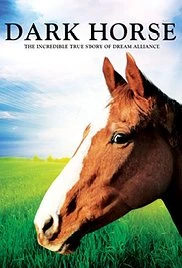 The Tattenhall Film Society are proud the present the next film in the schedule – Dark Horse – The Audience Award Winner at the Sundance Film Festival 2015 for World Cinema Documentary.
Dream Alliance is an inspirational and true story set in the village of Cefn Fforest in one of the poorest mining valleys in Wales. When the barmaid at a local working men's club, overhears a regular talking about the time he owned a share of a racehorse, she decides to breed a racehorse of her own and goes into business with the regulars and her husband.
The documentary is directed by Louise Osmond (Deep Water), produced by Judith Dawson (Death Of A Schoolfriend) and shot by Benjamin Kracun (Hyena, For Those In Peril).
Doors open at 7.30pm, film starts at 8pm.
£5 for adults, £4 for under 18s – pay on the door.