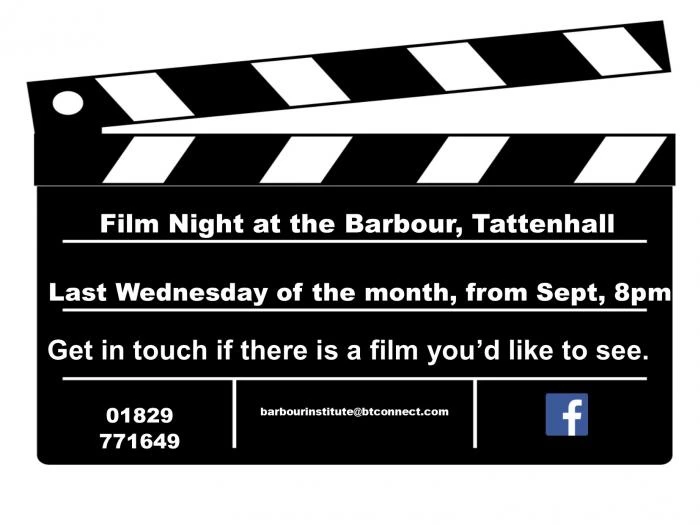 Film Night at the Barbour News Feb 2020.
As we are now half way though the current season it seems a good time take stock of how it's going here at Film Night at the Barbour.
Thanks to a grant from the Parish Council that enabled us to purchase new equipment, Film Night were able to take the plunge and sign up to Filmbank Media for the procurement of the licences required to show films at the Barbour.
With Filmbank we have access to a huge amount of films, and can secure the licence at shorter notice – enabling us to show more current films. This has resulted in an increase in visitors – gone are the days of more volunteers than guests!
Our primary aim is to offer a cinema service to the Tattenhall Community. Whether it's a film that you missed at the cinema, a catch up with friends, or simply because the alternative is a football match on television – all are welcome. We aim to break even – 20 paying guests (at a bargain £5 per ticket) covers the cost of the licence. We are always looking at improving your cinema experience, we trial new layouts regularly and are currently looking in to the possibility of a new screen to enhance the picture.
In the past we have offered a bar and recently started selling tea and biscuits (all proceeds of which go to the Drop-in Coffee morning, run every Tuesday here at the BI.) However from this month we introduce BYO (Bring Your Own) drinks – that way you have exactly what you want. Just ask for a glass, we'll wash up if you take your empties home! We will carry on offering teas and coffees if the demand is there.
Asking for personal recommendations for films has resulted in some great evenings – at Fisherman's Friends we have to shuffle up to fit everyone in and the recent Downton Abbey was possibly the best received film we've ever shown. (It's an easy win -if you like Downton you'll love the film!) To tie-in with awards season a Facebook poll resulted in Joker being selected as our next film (Weds 26th Feb, 8pm start). It's a change from our usual fare but an award winning performance from Joaquin Phoenix that needs to be seen.
With special thanks to the group of volunteers that run the screenings and the TCA for supporting us, Film Night at the Barbour can only continue to succeed. We will be showing films on the last Wednesday of the month until 27th May – films are advertised 3 weeks prior at the BI, online and on posters around the village. Hope to see you there soon!